Casey Abrams was born in Austin, Texas and eventually made his way to Idyllwild, California. This multi-instrumentalist initially made a name for himself on the 10th season of American Idol – he finished in sixth place – and judging by his 2018 album PUT A SPELL ON YOU, he's certainly learned a lot during his long and exciting journey. Unlike many other artists who are content to find a niche or genre they feel comfortable in, Abrams mixes and matches genres as he sees fit. This is not a former American Idol contestant that is going to fall in line and churn out a variation on today's Top 40. Nope. Casey Adams is going to do whatever he damn well pleases!
 The album's opener, "Robot Lovers," sets the tone of the album with its blend of Jazz, gritty Blues and a raw, quirky groove. Track two immediately switches gears and finds Adams and his band breaking into a playful yet low-key mostly instrumental version of "Meet The Flintstones" (yes, the theme to the classic cartoon). By "Cougar Town," you begin to realize that you are in the center of a unique experience – a professionally recorded session with some pretty talented folks all gathered around a single multi-dimensional microphone and cutting loose. The interplay between Casey and the band is playful and loose. You can practically hear the smiles in the studio as the musicians interact, achieving groove nirvana throughout the entire album. "Put A Spell On You" (which he performed on American Idol all those years ago) is raw and intimate. "Let's Make Out" and "Nature Boy" are highlights. The CCR classic "Have You Ever Seen The Rain" is stripped down and far more powerful than it has a right to be!
PUT A SPELL ON YOU is not what you would call a shoe-in for the Billboard Top – it is something much more than that. This is not disposable Pop pap. The intimate performance and production adds a sense of timelessness to the album. Eschewing modern production and studio gloss, the album's 'live in the moment' sound is one that will sound fresh and exciting a decade from now. Not exactly Jazz, Soul, Blues or acoustic Folk, the album will appeal to fans of all of those genres and will hopefully introduce Casey to a whole new audience. And that is really what matters.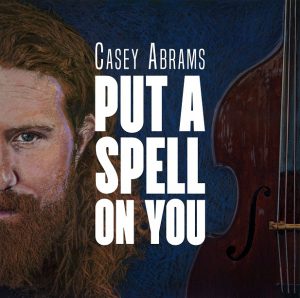 CASEY ABRAMS
PUT A SPELL ON YOU
3.16.18