Courtney Hartman and Taylor Ashton were already successful in their respective outfits before coming together as a duo. Hartman, the singer, songwriter and guitarist for Nashville-based Americana outfit Della Mae, met Canadian singer, songwriter and clawhammer banjo player Taylor Ashton when her band crossed paths with his band, Fish & Bird, while out on the road. The two began writing songs together and within four years, they decided that they had enough material for an album. Named after one of the first songs they wrote together, the duo is now releasing BEEN ON YOUR SIDE, their debut album as a duo. On paper, their collaboration may sound like a perfect match but, in reality, it is so much better than that.
Filled with exquisite harmonies and haunting melodies, BEEN ON YOUR SIDE is an album that touches on Folk, Americana, Bluegrass and classic Country & Western. This is an album that is both charming and heartbreaking. Like a brisk breeze blowing tumbleweeds through a sun-stained ghost town, BEEN ON YOUR SIDE is a slice of America's musical past strolling through a very modern world. Haunting yet still full of life, the album is a snapshot into the lives of two talented singer/songwriters who were destined to create music together.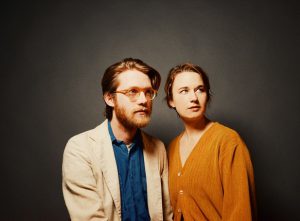 Hartman's sensitive guitar playing is complimented by Ashton's clawhammer banjo, creating a sound that builds a solid foundation for the harmonies that weave in and out of the melodies like dragonflies chasing each other across a pond.  With tracks like album opener "Wayside," "Loving Hands," "Meadowlark," "Loving Hands," and the title track, BEEN ON YOUR SIDE is honest, straightforward and heartwarming. Although Hartman and Ashton come from different backgrounds and different hometowns, their collaboration sounds as if they've lived next door to each other all their lives. Perhaps, in a different dimension, they did.
COURTNEY HARTMAN & TAYLOR ASHTON
BEEN ON YOUR SIDE
8.31.18