Formed in Bridgeport, Connecticut in 1994, Hatebreed has been one of the most respected Hardcore and Metal bands for over a quarter of a decade. From their original Hardcore demo that was released on a split 7" single in 1995 to their most recent recordings, the band has evolved over the years, sticking to their Hardcore Punk roots but also embracing a menacing Metal sound. This blending of two aggressive styles has been referred to as Metalcore. Alongside other Metalcore band such as 36 Crazyfists, Senses Fail, Lamb of God, Killswitch Engage, From Autumn to Ashes, and Bullet for My Valentine, Hatebreed has been on the forefront of a musical scene that swept the nation and invaded every country, large and small. For many, Hatebreed has been the perfect gateway from Hardcore to Metal and vice versa.
Thirty six years after forming, three of the original members remain in the line-up since those early demos: vocalist Jamey Jasta, bassist Chris Beattie, and lead guitarist Wayne Lozinak (who took a 13 year break from the band from 1996 to 2009). While the rest of the line-up has changed over the years, their musical vision has remained the same – create music that evolves but still retains that classic Hatebreed sound. The band released their debut album, SATISFACTION IS THE DEATH OF DESIRE, in 1997 and followed that up with a series of albums that became stronger and more powerful: PERSEVERANCE (2002), THE RISE OF BRUTALITY (2003), SUPREMACY (2006), HATEBREED (2009), THE DIVINITY OF PURPOSE (2013) and THE CONCRETE CONFESSIONAL (2016). Always moving forward, Hatebreed has built a catalog that continues to inspire a generation of new Metalcore fans.
Their 2020 release, WEIGHT OF THE FALSE SELF, is Hatebreed's eighth album and finds the band's new music arriving at a very strange and unique time in our history. With a pandemic spreading across the globe and politics dividing the U.S., the album may not lyrically address the issues, but the music reflects the anger and confusion that the world is experiencing on a daily basis. The album was produced by Zeuss and follows up the enormously successful 2016 album THE CONCRETE CONFESSIONAL and a 25th Anniversary tour in 2019. With songs like "Let Them All Rot", "Dig Your Way Out", "Instinctive (Slaughterlust)", and "The Herd Will Scatter" are amongst the highlights of this long-awaited release from one of the country's most reliable Metalcore outfits. They never fail to satisfy and surprise in equal measure.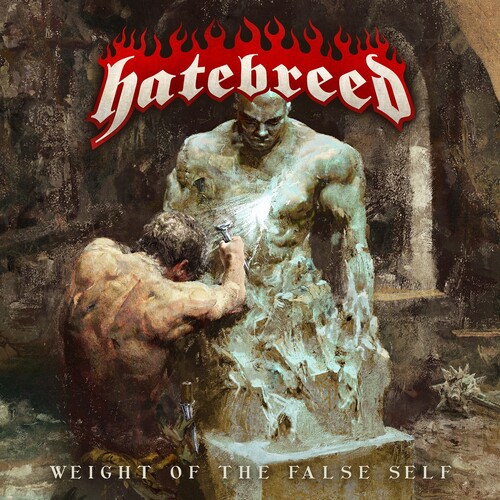 HATEBREED
WEIGHT OF THE FALSE SELF
11.27.2020