Formed on Oban, Scotland in 1984, Capercaillie is a band that blends both traditional Gaelic and modern Folk music, creating a sound that has delighted audiences around the world for over 35 years. For their first few albums, the group focused on creating music that was modern yet rooted in traditional Folk. Beginning in the early 1990s, they made a slight shift in their sound, adding more modern elements to their recordings, creating a contemporary sound that appealed to a wider audience without alienating their devoted fanbase. Their albums throughout the '90s and into the '00s were successful, earning the band a larger audience. Their most recent recordings have seen the band return to their folksier roots, and nearly four decades later, Capercaillie's catalog remains beloved and respected.
The heart and soul of the band is vocalist Karen Matheson, who has been one of the two only constant members of the band since their inception (the other being keyboardist Donald Shaw). While Matheson remained the voice of Capercaillie, she also embarked on a side career as a solo artist. A dozen years into the group's career, she released her first solo album, THE DREAMING SEA (1996). Her second album, 2002's TIME TO FALL, featured musical assistance from Scottish Pop/Soul band Love & Money. Three years later, she issued her third solo album, DOWNRIVER (2005). Dividing her time between her solo albums and Capercaillie, it took another decade before she issued her fourth solo album, the deeply personal URRAM (2015), her first all-Gaelic release. The album featured musical assistance from her Capercaillie bandmates, most notably Donald Shaw. The album received rave reviews across the board and Matheson proved beyond doubt that she was still one of Scotland's preeminent purveyors of Folk music.
Matheson returns in 2021 with the hauntingly beautiful STILL TIME, an album that was born from the pandemic lockdown. A sonic blend of Americana and Gaelic Folk music, the album – produced by Shaw – features Matheson's beautiful vocals floating through a collection of songs that reflect the times that they were recorded in: stark and emotional but not without hope. In fact, the musical atmosphere on STILL TIME is not shrouded in grey clouds and sadness. This is an album that gathers together a mix of emotions while standing in the warmth of the sunshine after a particularly harsh rainstorm. The songs, which date back a few years, were not written about the pandemic but the recordings reflect the moods of modern times. Highlights include "Cassiopeia Coming Through", "The Diamond Ring", "Orphan Girl", "The Aragon Mill", and the title track. An album of beauty and hope is always welcome in a world still reeling from an invisible enemy. STILL TIME is good for the heart and soul.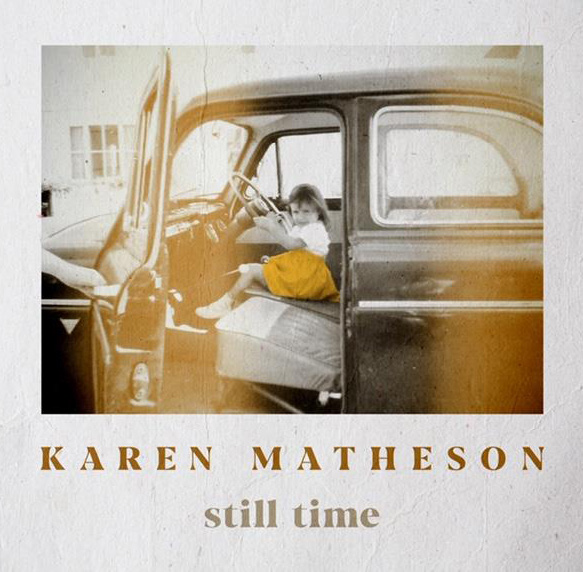 KAREN MATHESON
STILL TIME
2.12.21