Founded in 2007 by MC Taylor, Hiss Golden Messenger is an Americana group that bridges the gap between folk, country, gospel, and soul. Since the 2009 release of their full-length debut album COUNTRY HAI EAST COTTON, Hiss Golden Messenger has been compared to their many Americana contemporaries, but they've also stood out on many levels. While many acts had the right 'sound', MC Taylor and Co. had the right 'feeling'. Sounding as authentic as the rustling of the trees on a breezy and warm summer evening, MC Taylor and Hiss Golden Messenger began their career roaming the back roads of North Carolina and searching for truth and redemption through music.
Hiss Golden Messenger's 2010 album BAD DEBT introduced the band to a wider audience, being the first to be released outside of the US. The released a few critically successful albums – POOR MOON (2011) and HAW (2013) – before signing to Merge Records. No longer one of America's – and Americana's – best kept secrets, the band's commercial profile began to grow as they continued to release a series of critically-acclaimed acclaimed album including LATENESS OF DANCERS (2014), HEART LIKE A LEVEE (2016), and HALLELUJAH ANYHOW (2017). A dozen years after the formation of the band, Hiss Golden Messenger's 2019 album TERMS OF SURRENDER received a Grammy Award nomination for Best Americana Album.
Two years on from their Grammy-nominated album, MC Taylor and the band return with 2021'S QUIETLY BLOWING IT. From gentle acoustic strums to bold gospel-influenced stomps, the album is a trip through emotions, fears, hopes, doubts, and dreams. Never standing still, the songs on QUIETLY BLOWING IT don't offer solutions to problems of the world, but they do offer a respite from the storm. Like a paintbrush on a canvas, Taylor's songs paint pictures of real life in real time. Tracks like "Sanctuary", "Way Back in the Way Back", "It Will If We Let It", "Painting Houses", and "Mighty Dollar" reveal his views on the world around him… and around us. And like a painting, there is so much depth to the songs on this album. There are plenty of shadows on QUIETLY BLOWING IT, but they are surrounded by bright glimpses of light. Every strum and every hum is here for a reason. This is an album that reflects the cold tears of solitude and the joyous cry of salvation. And that, in itself, is quite the accomplishment.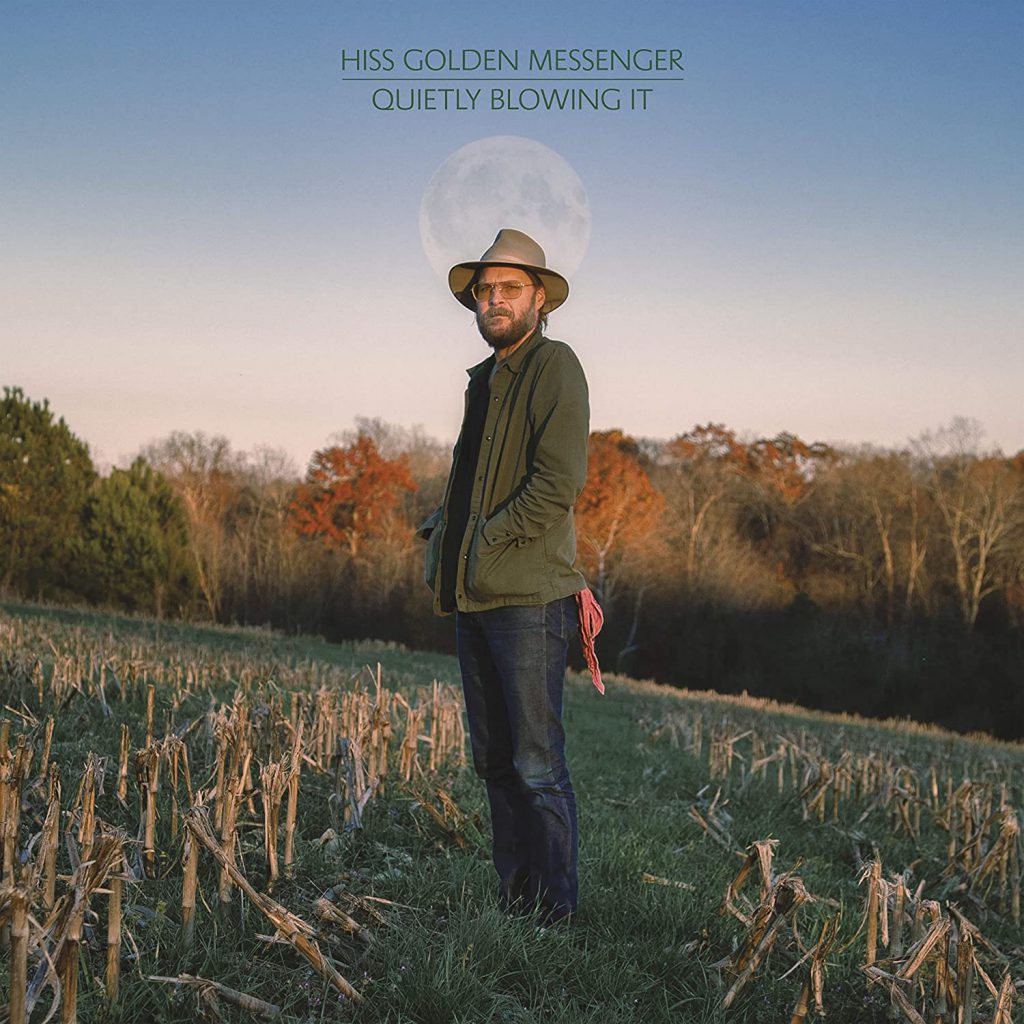 HISS GOLDEN MESSENGER
QUIETLY BLOWING IT
Available NOW