Founded in Albuquerque, New Mexico, Beirut originally started as a solo project by singer/songwriter Zach Condon. Influenced by the music he heard while working in a cinema that showed international films, he decided to create his own music that incorporated elements of those worldly cinematic sounds that inspired him. Condon was also influenced by experiencing this music first-hand while traveling Europe when he was 17 years old, planting even more ideas into his creative mind. After returning to the U.S., he attended the University of New Mexico and began recording music at home. Collaborating with Jeremy Barnes (Neutral Milk Hotel / A Hawk and a Hacksaw) and Heather Trost (A Hawk and a Hacksaw), the album was finished in the studio and Condon and Beirut released their full-length debut, GULAG ORKESTAR, in 2006.
Met with rave reviews, GULAG ORKESTAR revealed a unique musical project that was embraced by Alt-Rock, Indie, Americana, and World music fans. Slightly altering their sound for THE FLYING CLUB CUP (2007), Condon and Co. revealed a love for French chanson. With each subsequent release, Beirut became more than just Condon' solo project. As the line-up grew, different influences made their way onto the group's albums such as THE RIP TIDE (2011), NO NO NO (2015), and GOLLIPOLI (2019). Beirut became a band that evolved and grew while also maintaining their distinct sound. During the group's run of albums, Condon also worked with other artists including A Hawk and a Hacksaw, Blondie, Grizzly Bear, Sharon Van Etten, the New Pornographers, Mouse on Mars, and others. However, Beirut has always been Zach Condon's focus and while the group has not finished a new album, he's been working behind the scenes and going through their archives…
Like Beirut's music, 2022's ARTIFACTS is a collection that evolved and changed over time. The original intention for the release was to collect a few early EPs together and release them on a compilation. When Condon started going through hard drives to find a few bonus tracks to the release, he re-discovered so much bonus material that they had to expand the collection to two discs (both on CD and LP). While ARTIFACTS is not a 'best of', anyone that is new to the music of Beirut would think otherwise. An incredibly diverse release, the album mixes the warm acoustic based side of the group with their atmospheric electronica-influenced recordings to great effect. With melodies that sound both refreshingly original and oddly familiar and comforting, ARTIFACTS is an incredible musical journey that blends so many musical styles together that it is even hard to classify Beirut as anything but 'wholly original'. Highlights include "Carousels", "Fryodor Dormant", "Elephant Gun", "Napoleon on the Bellerphon", and "Le Phare Du Cap Bon". ARTIFACTS is both a fine reminder of Condon and Beirut's talents and serves as a great gateway release for anyone wishing to dive into their catalog for the first time.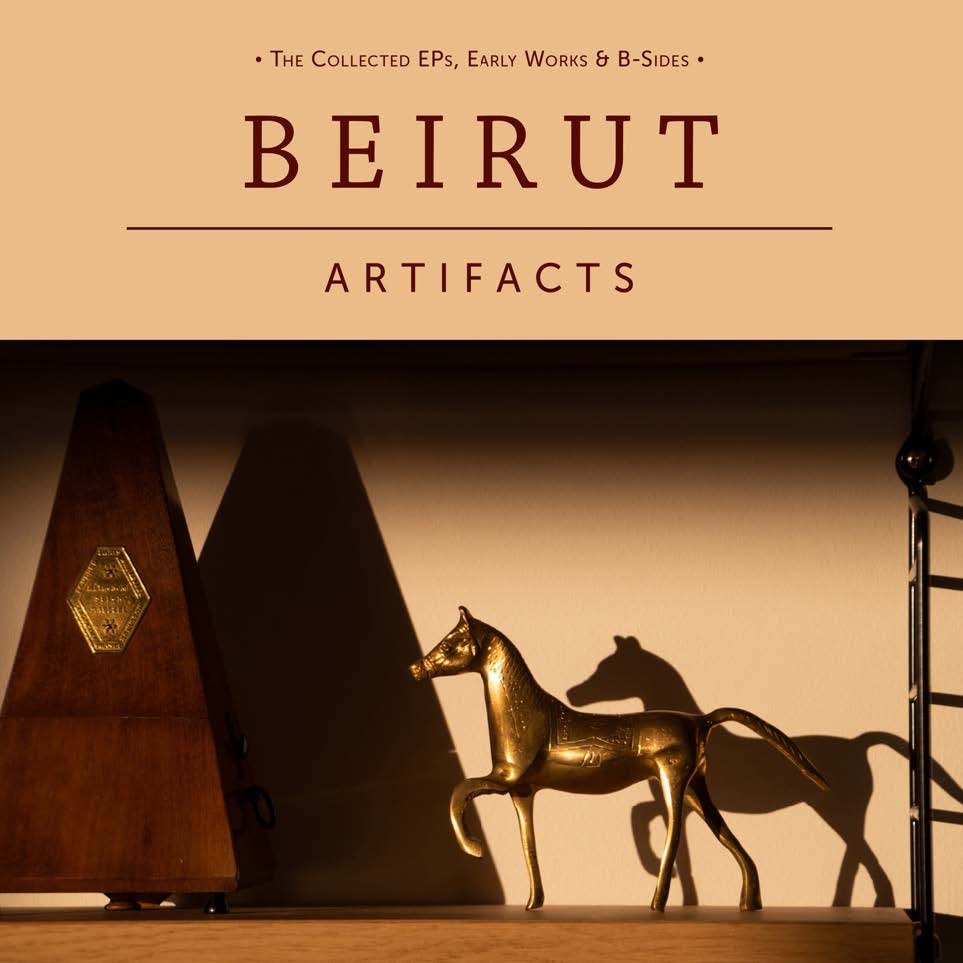 BEIRUT
ARTIFACTS
Available NOW!