Founded in Orange County, California in 2004, alt-rock band Cold War Kids was formed by Nathan Willett (vocals/piano/guitar) and Matt Maust (bass) with Jonnie Russell (guitar) and Matt Aveiro (drums). After several well-received EPs, the group released their debut album, ROBBERS & COWARDS, in 2006. The album was an international hit, entering the Top 40 in the UK, Scotland, and Belgium, but only reached #173 in the U.S. However, the album created a buzz that got louder with each passing month, paving way for the release of LOYALTY TO LOYALTY (2008), which reached #21 in the U.S. and charted high internationally. The group became favorites with critics and music fans alike, moving from strength to strength and building their career bit by bit, piece by piece. And their success didn't stop there…
MINE IS YOURS (2011) was another international hit, proving that the band – who continued to evolve with each release – had hit on a winning formula. Although they lost original guitarist Jonnie Russell (replaced by former Modest Mouse member Dann Gallucci), the group's commercial and critical momentum continued with DEAR MISS LONELYHEARTS (2013). By the time they released HOLD MY HOME (2014), original drummer Matt Aveiro had been replaced by Joe Plummer, another former member of Modest Mouse. The group had expanded by one member as well with the addition of keyboardist Matthew Schwartz. Guitarist David Quon replaced Dann Gallucci by the time L.A. DIVINE was released in 2017. The band's obvious funk and soul influences came to the fore on their seventh album, NEW AGE NORMS 1 (2019), the first in a trilogy of releases. The second volume, NEW AGE NORMS 2, was released in 2020.
As 2021 draws to a close, Cold War Kids release their ninth album NEW AGE NORMS 3, the closing chapter of the trilogy. The rough and raw sound of the group's early EPs and debut album has evolved over time. Still filled with Pop hooks and inventive arrangements, the group has roughened out the edges and upped their songwriting chops. This evolution is not new – the band has been moving in this direction for over a decade – but the ending results are quite impressive. The album's lead single is "What You Say" but the album is filled with 'should-be-hits' including "I Can't Walk Away", "Wasted All Night", and "Always" to name a few. For a band that could easily rest on its laurels, Cold War Kids have decided to sharpen their focus and create an album that will reach a new legion of fans while not alienating their longtime followers. NEW AGE NORMS 3 may be the final word in this trilogy but the group leaves things open for new stories and new musical explorations… so stay tuned!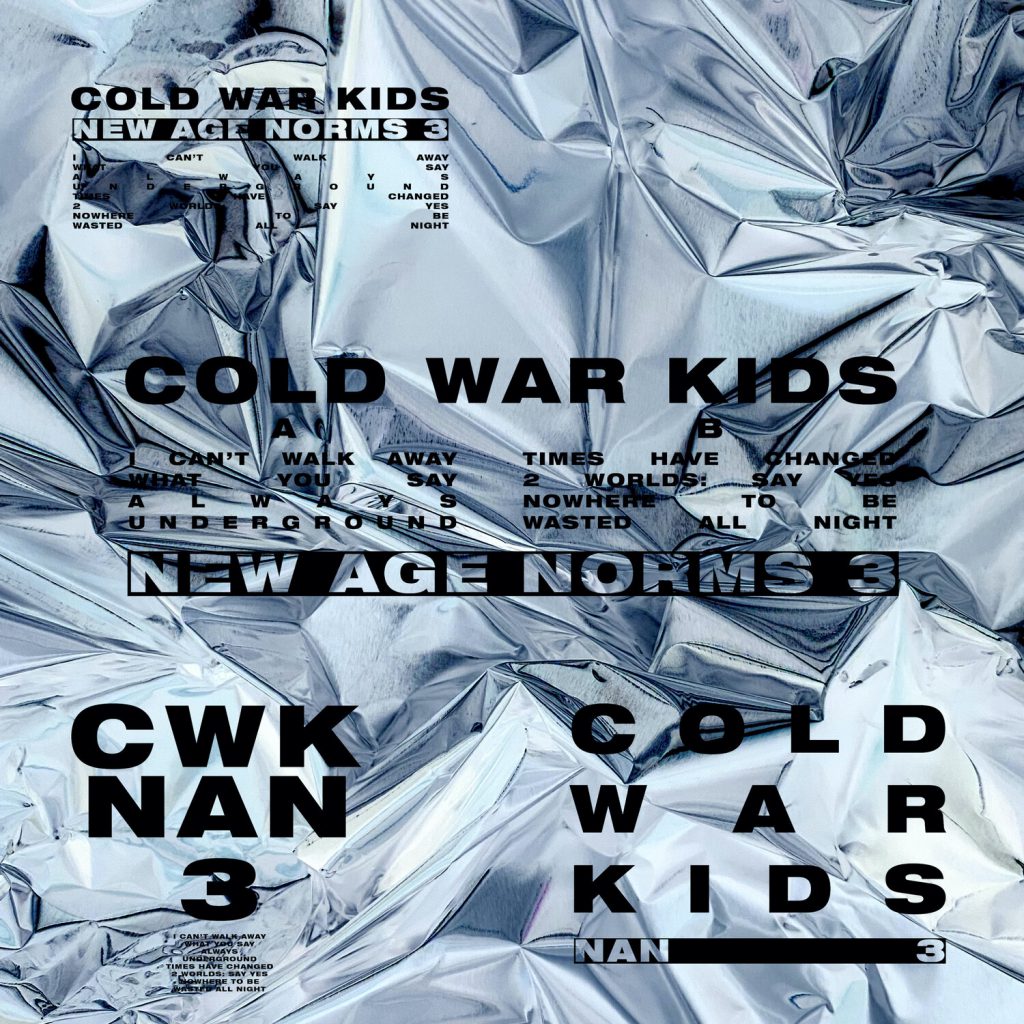 COLD WAR KIDS
NEW AGE NORMS 3
Available NOW!