Rock 'n' roll saved the world. Back in the mid-1950 when it came rumbling out of nowhere, parents tried to stop their kids from listening to this new raw, primal, and edgy music that blended Hillbilly with Rhythm & Blues and a huge dollop of adrenaline. As we know, Rock 'n' Roll was too wild to contain, and it spread throughout the U.S. and then made its way around the world in just a matter of months. Rock 'n' roll scared the older generation because they were not familiar or comfortable with the 'noise' that the kids made. And those 'kids' were the musicians that we now consider legends – the long list includes Jerry Lee Lewis, Elvis Presley, Buddy Holly, and the man who invented the Rock 'n' Roll guitar riff, Chuck Berry.
Elvis has been referred to as the 'King of Rock 'n' Roll' for decades, but music historians have challenged that title for almost as long as it has existed. Sure, Elvis was the acceptable face of Rock 'n' Roll and was the best-selling artist of the era, but was he actually the 'King'? Elvis moved quickly from a Hillbilly/Rockabilly singer to Rock 'n' Roll star, to movie idol in such a short amount of time, trading some of his Rock 'n' Roll edge for a shot at superstardom. Some argue that the real king of Rock 'n' Roll was Chuck Berry, and there's a lot of proof out there that backs that claim up. From his Rock 'n' Roll riffs to his rebellious attitude, Chuck Berry personified the true essence of the genre. And besides, many iconic groups – from the Beatles and the Rolling Stones to the Beach Boys – covered or 'borrowed from' Chuck Berry's biggest hits but rarely touched an Elvis tune.
Chuck Berry stuck to his guns throughout his career, playing Rock 'n' Roll music his way. Rarely straying from the formula, he created, Chuck was a tough cookie with some of the greatest Rock 'n' Roll guitar riffs in history. He didn't always make the Top 40, but his reputation never dimmed. Even during those long spells between studio albums, he was always on the road, keeping the primal and raw edge alive. On LIVE FROM BLUEBERRY HILL, a previously unreleased live show from 1996, his playing is a little slower, but his Rock 'n' Roll spirit is alive and well and ready to strike. Gathering together 10 of his greatest songs – including "Johnny B. Goode", "Sweet Little Sixteen", "Roll Over Beethoven", and "Rock and Roll Music" – LIVE FROM BLUEBERRY HILL presents the man himself continuing to do what he was born to do. The show is rough and sticks to the same spirit of Rock 'n' Roll that Berry invented over 60 years ago. While Elvis may have gone out as an entertainer, Chuck Berry was still a true rocker. Some say he was the 'King', but that is for you to decide.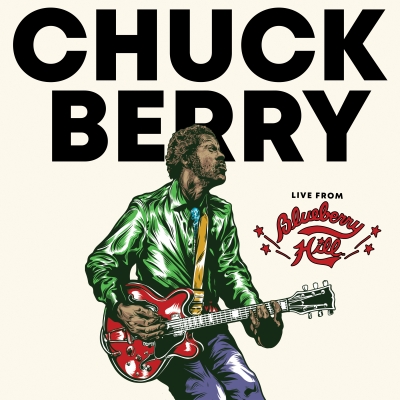 CHUCK BERRY
LIVE FROM BLUEBERRY HILL
Available NOW!