Born in Catford, London, England in 1945, Robin Trower is an iconic guitarist whose career began six decades ago when he formed The Paramounts in 1962. Also featuring vocalist Gary Brooker, the Paramounts split up in 1966, and Trower formed a short-lived group by the name of The Jam (not to be confused with the British Mod trio led by Paul Weller). He reunited with his former Paramounts bandmate Brooker and joined Procol Harum, who then scored an international hit with their single "Whiter Shade of Pale." Suddenly thrust into the spotlight, Robin made the best of it and recorded five albums with Procol Harum and touring the world before leaving the group in 1971…
After forming his own group – the Robin Trower Band – he began the next phase of his career as one of the most beloved guitarists of his generation. With the release of his 1973 debut album, TWICE REMOVED FROM YESTERDAY, Trower became a 'guitar hero'. With the success of albums such as BRIDGE OF SIGHS (1974), FOR EARTH BELOW (1975), LONG MISTY DAYS (1976), IN CITY DREAMS (1977), CARAVAN TO MIDNIGHT (1978), and VICTIMS OF THE FURY (1980), Robin Trower inspired listeners to turn up their FM radios and play air guitar as if their lives depended on it. In the 1980s, audiences began to play air keyboards and the Classic Rock artists were sidelined for a brief time. Robin Trower weathered the storm and continued to release a series of critically acclaimed albums and remained connected to his dedicated fanbase.
With 2022's NO MORE WORLDS TO CONQUER, Robin Trower continues to look forward but doesn't sacrifice his past in the process. While not a full-frontal Blues album, this release uses Blues as a launch pad that sends Trower into different musical universes. Sounding fresh and exciting, NO MORE WORLDS TO CONQUER offers new twists to Trower's signature sound. This is an updated take on Classic Rock without having to resort to retro tropes. Completely Robin Trower to the core, some songs travel down the same musical path that made pre-MTV Dire Straits so exciting. With a foundation in British and American Blues Rock., NO MORE WORLDS TO CONQUER is an album with great hooks, great playing, great vocals, and an obvious passion and love for creating music. Songs like "The Razor's Edge," "Ball Of Fire," "Losing You," and the title track are prime Trower at his best. "Waiting For The Rain To Fall" could easily be a hit single… that is, if radio existed like it did a few decades ago. Robin Trower may not feel that he has no more worlds to conquer, but he continues to take his listeners to new places. And isn't that really what it is all about?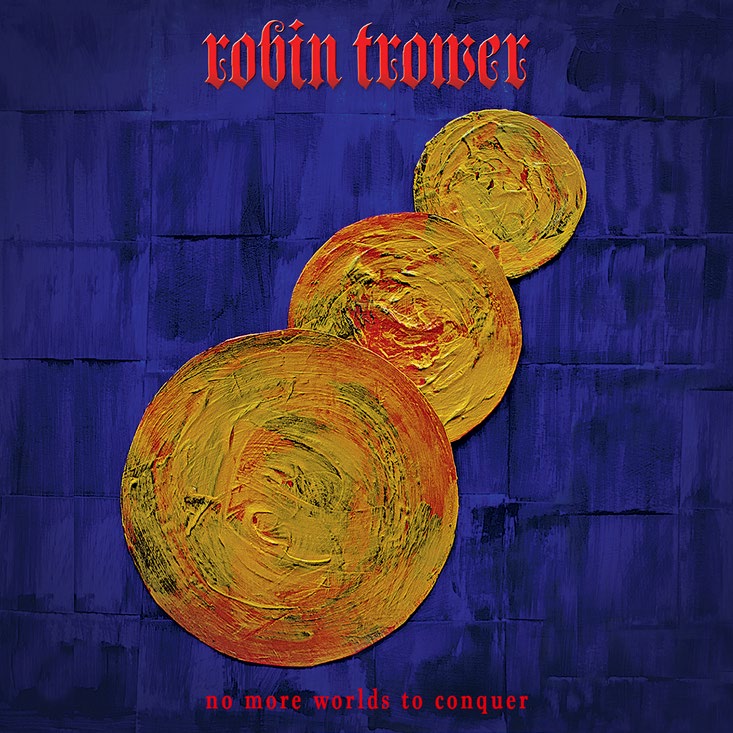 ROBIN TROWER
NO MORE WORLDS TO CONQUER
Available NOW!