Like the Rock 'n' Roll revolution in the 1950s and the British Invasion of the 1960s, Punk Rock changed everything when it kicked down the doors in 1976. Within a year, the musical landscape had been uprooted and replanted with a crop of new groups, new ideals, new energy, and new sounds. In the U.S., the Punk movement was about art, attitude, and teenage rebellion. However, in England, Punk was a way of life. It was about survival. It was an uprising. The British teens weren't rebelling against their parents and demanding later curfews on date nights – they were lashing out at the upper class and privileged elite who were holding them down. It was a class war, and the younger generation demanded to be heard. Thankfully, many of them chose to express themselves through music instead of violence. And in the process, Punk changed music history, creating new sub-genres such as Post-Punk, New Wave, and more. And now, four decades on, we look back with reverence at the music that was created during those tumultuous years.
While many of the British groups gained a lot of commercial attention in the US – Sex Pistols, The Clash, Buzzcocks, The Jam, etc. – there was a crop of equally exciting bands that didn't gain as much press but managed to build up a following in the States regardless. Bands like UK Subs, 999, Angelic Upstarts, Chelsea, Sham 69, and others built their American audiences via college radio play, fanzine coverage, and word of mouth. However, UK Subs' relentless live performances and prolific output stood out amongst their contemporaries. Fronted by former Rhythm & Blues singer Charlie Harper (the only mainstay in their 46-year career) and guitarist Nicky Garratt, the group charted their own course and vowed to release 26 albums with the titles beginning with a different letter in the alphabet. The first batch of albums – A to D – included ANOTHER KIND OF BLUES (1979), BRAND NEW AGE (1980), CRASH COURSE (1980), and DIMINISHED RESPONSIBILITIES (1981), etc. Their next album, 1982's ENGANGERED SPECIES, featured Charlie and Nicky joined by bassist Alvin Gibbs and drummer Steve Roberts. This groundbreaking Punk classic has remained a firm fan favorite since its original release.
Celebrating it's 40th Anniversary, ENDANGERED SPECIES receives the Deluxe treatment and is now available in a two CD set that contains 32 bonus tracks including non-album B-sides, EP tracks, demos, outtakes, and live recordings. The album itself finds the band in their prime, mixing the energy of Punk with a slight Metal edge that incorporates influences from the burgeoning New Wave of British Heavy Metal movement. While Charlie and the boys didn't set out to write catchy little ditties like Buzzcocks or The Ramones, their songs are still melodic and instantly memorable. Raw, primal, and full of vim and vigor, the album is filled with classics such as the single "Countdown" and "Down on the Farm", a track that Guns N' Roses later covered on their 1993 album SPAGHETTI INCIDENT? Alongside the album and a host of non-album tracks and demos, this two CD set also contains 16 live tracks from 1982 including Subs classics such as "Stranglehold", "C.I.D.", "Tomorrow's Girls", and "Police State". Housed in a six-panel digipak, this release is essential to UK Subs fans and can easily serve as a perfect gateway into the UK Subs universe. This is music that remains timeless and vital four decades on.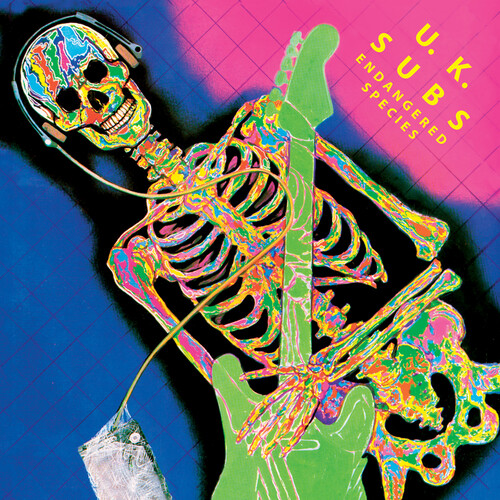 UK SUBS
ENDANGERED SPECIES (2CD)
Available NOW!