Ever since Aerosmith's debut album was released 45 years ago, Joe Perry has been one of Rock 'n' Roll's most respected guitarists. While some may have thought of him as Steven Tyler's trusted sideman in the Hard Rock outfit, Perry was much more than that – he was the architect of Aerosmith's Blues-based Rock groove.  When Perry left Aerosmith for a few years in the early '80s, he took that distinct Perry vibe with him.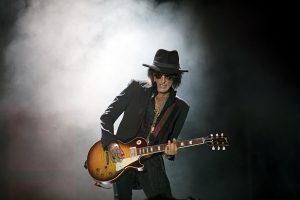 While Aerosmith takes a break from live and studio activities, Joe Perry's creativity energy can no longer be contained.
SWEETZERLAND MANIFESTO
is Joe's first studio solo album since 2009's
HAVE GUITAR, WILL TRAVEL
(not to mention his Christmas album from 2014).
SWEETZERLAND MANIFESTO
features 10 hard-rocking original songs featuring musical assistance from
Robin Zander 
(
Cheap Trick
), who sings on the single "Aye, Aye, Aye",
David Johansen
(
New York Dolls
), and
Terry Reid
. Even world-famous actor
Johnny Depp
gets in on the action, playing drums on "Eve Of Destruction.
SWEETZERLAND MANIFESTO finds Perry experimenting with styles and sounds. His acute understanding of Rock's emotional core has always informed his playing. Never one to fill empty spaces with as many notes as possible, this album finds him sticking to his guns and playing only the notes that matter. Still filled with the Blues-Rock fever, SWEETZERLAND MANIFESTO is a modern Rock album that doesn't look to the past for answers. This isn't Aerosmith-lite – this is 100% proof Joe Perry!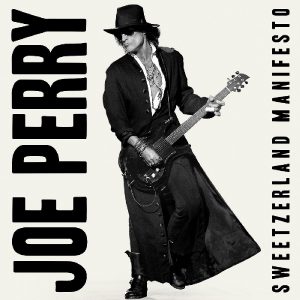 JOE PERRY
SWEETZERLAND MANIFESTO
 1.19.18