STEPHEN SCHNEE: SING YOUR DREAMS is now available. How are you feeling about the album and the reaction to it so far?
DENISE KAUFMAN: Well, it isn't really quite out yet, so our friends and fans have only heard the tracks we previewed – "Made for Love," "Jai Ma" and "Put A Woman in Charge." We've gotten wonderful responses to those songs. When we toured last summer/fall we played a few of the songs from this album live and people wrote to us asking where to get the tracks. We're glad we can finally share them all!
SCHNEE: Were the tracks on the album relatively new compositions or do any of them date back to the band's early days in the late '60s?
DENISE: It's about 50% vintage Ace of Cups songs. The rest were either written recently or sometime in between 1972-2012. How's that for a span of time? "Waller St Blues" was the first song we wrote as a band in January 1967. In recording it for this album, we wrote a new verse about the Haight-Ashbury today. Mary Ellen Simpson wrote "Dressed in Black" in 1967 about her crush on one of the guys in Blue Cheer. We revamped it and wrote a new verse/bridge when we reunited and started playing live again. On "Gemini" we stayed true to the way we played it in the old days with psychedelic organ sounds and all! Diane's song "Little White Lies" was written in the last couple of years but the theme of a cheatin' boyfriend goes back, doesn't it? The song "Slowest River" grew from one stanza of a poem by Algernon Charles Swinburne that Mary Gannon Alfiler found on a crumpled napkin at The Sleeping Lady, a restaurant/venue in Marin County, CA. Mary brought the napkin home, started writing at the old upright piano, and I joined in to co-write the lyric. The song evolved further as we were working on Sing Your Dreams. The mantra/chorus in "Made for Love" (the second song in the closing medley) was written by Mary Gannon Alfiler about 20 years ago in Kauai and I wrote the spoken word verses in February, 2020, as we were finishing the album. Some of our songs from back in the day felt current to us just exactly as they were, and some called out for a new approach or some rewriting.
SCHNEE: You experience with a lot of different musical styles on the album. From the Glam Rock stomp of "Put A Woman in Charge" to the African grooves of "Jai Ma", this album really displays your diverse talents. Were you originally concerned that you were taking the album in too many directions? Or is that what excited you about making SING YOUR DREAMS?
DENISE: We've always played in and explored different musical styles and we never felt as though we shouldn't or couldn't do that. We have five singers/writers in the band with different musical influences and passions. We honor the lineages that nourish and inspire us and hey – this is music – let's play and sing! Fortunately for us, our amazing label, High Moon Records, gives us full freedom to express our musical range.
SCHNEE: With such a diverse batch of songs, what do you feel is the perfect 'gateway' track, the song that you feel best defines the album?
DENISE: Oh gosh. I was hoping you'd tell me that!! For a straight up 60's vibe, I'd say "Dressed in Black" or "Gemini." If someone wants to know more about our hearts and values, I'd say "Basic Human Needs," "Sister Ruth" or "Slowest River/Made for Love." If you want to rock out to some strong women laying it down, "Put a Woman in Charge" and "Boy, What'll You Do Then?"
SCHNEE: "Lucky Stars" is a joyous slice of Pop. What inspired that track?
DENISE: Mary Ellen was in a Mark Knopfler phase – immersing herself in all his music the way she does when she focuses in on someone. (These days, it's Stevie Ray Vaughn.) Anyway, she was thinking about how inspired she was by having a hero, how she loved the sound of Mark's guitar and how her own music had carried her through really challenging times. You know, we've lost so many of the friends we played music with in the old days. We're one of the only bands we know whose original members are all still here on earth and playing. Who could have imagined that, 50 years after our original incarnation as a band, we'd finally get the chance to record and share our songs? As the song says," it's been a long, long road" and we DO thank our lucky stars. We hope our story and our music encourages people to keep on keepin' on and to sing/live their dreams, whatever they are.
SCHNEE: Who were some of the musical guests on the album?
DENISE: We're really honored to have all the wonderful guests who shared their musical mojo with us. Some of them are our old friends from the 60's with whom we toured and shared stages.  The very first track we recorded when we reunited was Wavy Gravy lead singing his anthem, "Basic Human Needs." Bay Area luminaries Sandy Griffith, Nate Soulsanger, Larry Batiste and Bryan Dyer joined us on vocals supporting our Hippy Icon and Temple of Accumulated Error, Wavy Gravy. Jackson Browne sang lead on "Slowest River" and Jason Crosby played the beautiful grand piano on that track. Jackson also sang the mantra/chorus of "Made for Love" with Bob Weir and David Freiberg. On "Jai Ma," we have Steve Kimock on lead guitar, Bakithi Kumalo on fretless bass and the whole Escovedo family on percussion and vocal ad libs: Sheila E, "Pops" Pete, "Moms" Juanita and brothers Peter Michael and Juan. It was a great family day in the studio! Steve Kimock also added some guitar magic on "Dressed in Black." On "Gemini," our longtime brother Peter Coyote talks about the ethos of the "Free Store" on Haight St. on the spoken word outro. On "Sister Ruth," Jason Crosby played the grand piano and Jack Casady played bass. On "I'm on Your Side," a gem written by Mary Gannon Alfiler and our producer Dan Shea, Dan's friend and musical colleague Sheldon Brown played the clarinets. Finally, our amazing multi-instrumentalist producer Dan Shea played on a number of tracks – always adding just what was needed.
SCHNEE: The overall feeling of the album is hope, strength, and power. However, it is also a reminder that we all face adversity and we need to look to those positive feelings to lead us to our own personal triumphs. Were there any particular incidents – personal or otherwise – that inspired the overall direction of the album?
DENISE: Certainly, the political realities since 2016 affected us. The rise of white supremacist groups, hate crimes, racism, misogyny and environmental degradation – devastating on all fronts. We finished the album the week before the COVID shutdown in California and released the track/video for "Made for Love" as a stand for generosity, kindness and connection in troubling times. Then George Floyd was killed and we each got into action in our own way. We feel the themes of this album are timely. In "Basic Human Needs" we sing with Wavy "not just churches, not just steeples, give me peoples helping peoples…. down in the garden, where no one is apart. Deep down in the garden, the garden of your heart." When the band reunited and started recording, it was Diane, Mary Gannon, Mary Ellen and me – just four of the original five band members. When our first album was released and we started touring in late 2018 and early 2019, we reached out to our friend Giovanna Joyce Imbesi to play keyboards with us. She was a brilliant musician, a deep and wonderful soul and she loved our songs. Giovanna had lived with neuroendocrine cancer for 12 years. She couldn't commit to joining the band but was well enough to go on some adventures with us. She lifted us musically and spiritually and it was a joy to play with her. Sadly, by last summer her health had deteriorated and she couldn't go on tour. Fortunately for us, we met the amazing Dallis Craft, our permanent new member and lead singer of "Put a Woman in Charge." There were still a couple of shows when Giovanna was able to sit in with us. Our last show with her was at The Sweetwater in Mill Valley, CA, in October 2019. She passed away the following month. SING YOUR DREAMS is dedicated to Giovanna. Life is precious. Wear a mask and take care of each other, please.
SCHNEE: When Ace of Cups reunited, were you initially focusing on your original audience or were you hoping to appeal to a new audience that may not have been aware of your musical legacy?
DENISE: We were hoping to appeal to old friends and connect with new audiences as well. Ever since the release of our live album in 2003 (culled from rehearsal tapes and various gigs in the 60's) people of all ages from all over the world have reached out to us through our website. We got messages such as "I'm at 22-year-old guy in Buenos Aires and I've been waiting for your music all my life." or "I KNEW women were making their own music in those days, but I just couldn't find it!" So, it's both for us. We want to stay connected with our original cohort and also be open to anyone who feels the pulse and heart of our music.
SCHNEE: When Ace of Cups originally formed, the idea of an all-girl Rock band was considered a 'novelty'. Since Ace of Cups, we've seen everyone from Fanny and The Runaways to The Go-Go's and The Bangles (and many others) prove that playing Rock music is not just a man's game. Was there a moment or era when you realized that the novelty had worn off and people were taking female rock bands seriously?
DENISE: Hmmm. Good question. It was certainly clear that by the late 70's – 80's there were many more women playing in bands. I am not sure who was taken seriously and by whom. Fanny was a great band. All wonderful musicians. I didn't/don't know much about the Runaways. I recently watched the new documentary on The Go-Go's and had to admire their determination – especially on that first European tour when they played for some really rough audiences. I still think female rock bands are judged by "male" standards and, as far as I know, very few women are in the Rock & Roll Hall of Fame.
SCHNEE: "Waller Street Blues" recalls the spirit of the hippie nation of 1968. Were things back then really as wonderful as we've all read about?
DENISE: There was a period of time early on when it truly was wonderful. 1965-67 especially. It seemed as though the old structures were giving way and there was a sense of community and creativity. The Free Store which Peter Coyote talks about at the end of our track "Gemini" was a corner store on Haight Street where people brought what they didn't need any more and took whatever they needed and wanted. No financial exchange. Just a sense of sharing. The Diggers were feeding people daily in Golden Gate Park. Much of the food they sourced was discarded by supermarkets for being a little discolored or because a new shipment had arrived. Add some rice or beans and they'd turn this "found food" into wonderful meals where everyone was welcome to gather and eat. Music, dance, poetry, prose, journalism, poster art, clothing as art, theater, new social structures and communal living – everything was up for exploration. Psychedelics were at the center of these transformations and even though times changed, the ripple effects of those days are still reverberating today.
SCHNEE: Ultimately, the album is pure joy. What keeps the band so optimistic and youthful?
DENISE: We were drawn together in 1967 because we loved playing music. We loved singing together. Even though we went our own ways after the Ace of Cups dissolved, none of us ever stopped playing. We were all in various bands and kept growing musically and as human beings. Most of the music we wrote in the 60's still lives for us today. It's relevant and still speaks from our souls. We don't know how much longer we have on this earth, but we'll offer the best that we are for as long as we can. The Ace of Cups card in the Tarot has clear streams of water flowing forth out of a chalice into the world. That's us.
SCHNEE: What's next for Ace of Cups?
DENISE: Well, all the shows we were scheduled to play this summer and fall have gone the way of COVID cancellations. We are scattered across California and Hawaii, so we haven't been all together since March. We do a Sunday Zoom convergence and really enjoy that. We have at least one more album to release in another year – it's about half finished and we look forward to getting back into the studio to finish it. Right now, we're excited to share SING YOUR DREAMS and see what magic synergy might come our way. We hope that our music can lift some hearts and be a reminder of what matters in this world. "Remember what we came here for – hold on to this connection, it's all that we are." ('Made for Love')
SCHNEE: What music have you been listening to lately?
DENISE: I've been listening to Ola Onabule's song "I Knew Your Father," Anais Mitchell's "Why We Build The Wall," D Smoke's "Black Habits," anything by Bill Withers, Jorma Kaukonen's Saturday night live shows from Fur Peace Ranch, and my grandson Eli Smart's new track/video, "Cruella Deville." And from here in Kauai on our family farm, a lot of birds.
Thank you, Denise Kaufman
Additional thanks to Steve Dixon and Dave Rayburn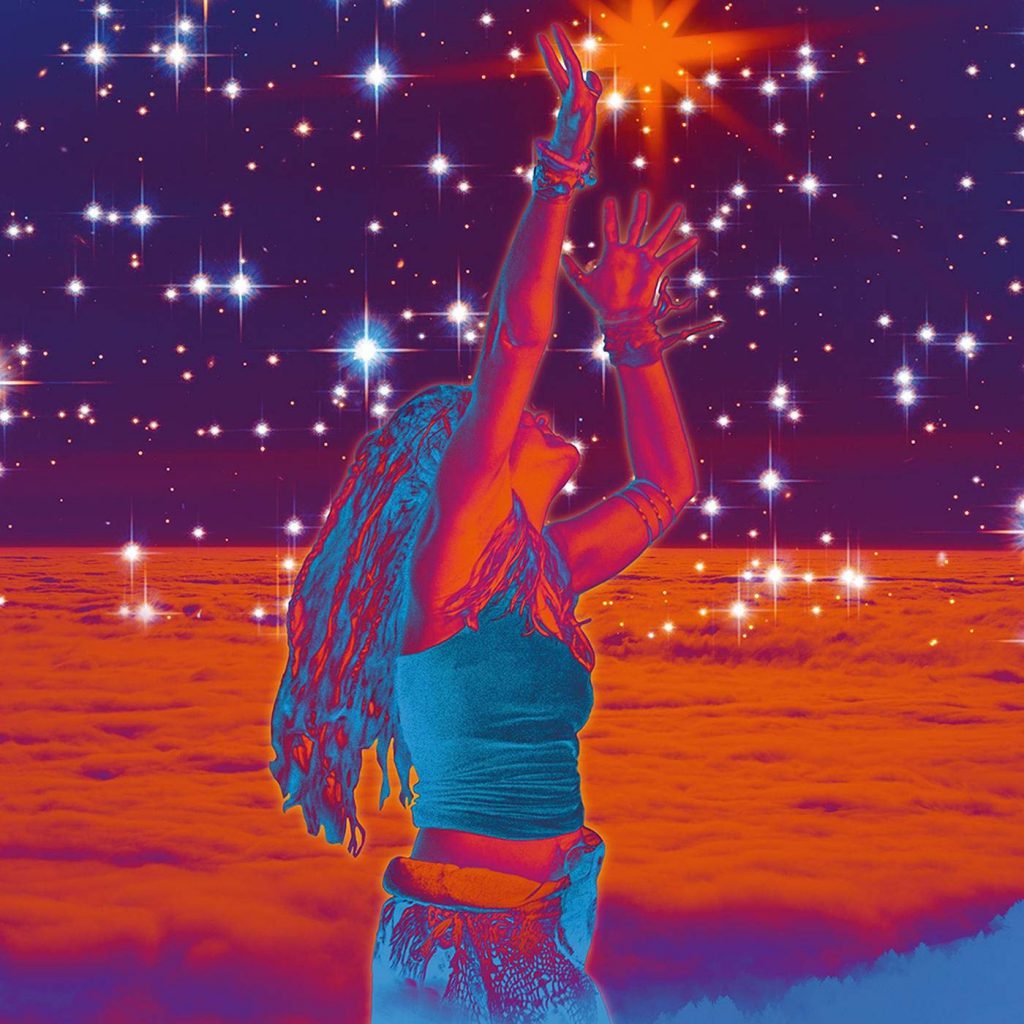 ACE OF CUPS
SING YOUR DREAMS
Available NOW!