Formed in Jefferson City, Missouri in 1996, Shaman's Harvest is a hard rock band that blends Post-Grunge, Metal, Southern Rock, and Alternative Rock into a heady brew topped off with melodic hooks and memorable guitar riffs. Originally founded by vocalist Nathan 'Drake' Hunt, guitarist Josh Hamler, and bassist Matt Fisher, the group has undergone several line-up changes over the course of their 26-year career – only Spinal Tap has had more drummers – but the band continues to persevere and grow stronger with each release. While the band has achieved plenty of attention via the release of their albums, they have endeared themselves to WWE fans everywhere for providing theme/entrance songs for Drew McIntyre ("Broken Dreams") and Wade Barrett ("End of Days") as well as providing "And Then There Was Darkness", which was used to promote the Bray Wyatt vs. The Undertaker fight during WrestleMania 31. Shaman's Harvest has also had music featured in films such as Legendary and No One Lives.
The band's musical career began three years after their formation with the release of their debut album, LAST CALL FOR GOOSE CREEK (1999). The group followed that up with the albums SYNERGY (2002) and MARCH OF THE BASTARDS (2006). The group's fourth album SHINE, was released in 2009 and was their most commercially successful yet, reaching #41 on Billboard's Heatseekers chart. The band's success really kicked in when they signed to Mascot Records and released SMOKIN' HEARTS & BROKEN GUNS (2014), which reached #5 on the Heatseekers chart as well as #23 on the Rock Albums chart and #34 on the Indie Albums chart. RED HANDS BLACK DEEDS (2017) shot to the top of the Heatseekers chart, proving that the band were hotter than ever. Over the course of their career, the band has released numerous hit singles including "Dragonfly" (2009), "Here It Comes" (2013), "Dangerous" (2014), "In Chains" (2015), and "The Devil in Our Wake" (2018). When the COVID-19 pandemic brought the world to a halt, the band's plans changed, and they spent more time working on new music. At the end of 2021, they released the singles 'Bird Dog" and "Voices", which gave fans a few peeks at their next album…
Shaman's Harvest returns in 2022 with their seventh album, REBELATOR, an album that reveals a bolder, more confident band with plenty to say… and a few monstrous riffs to help drive the messages home. Original members Nathan Hunt and Josh Hamler lead the band through an album that leads the listener on a musical journey that stays within the Hard Rock realm but also takes in many other musical influences. Far from a screamer, Nathan Hunt's vocals are rooted in the heartland – you can hear the dusty roads and blue-collar lifestyle in his voice, which makes them more identifiable to listener. But don't think for a second that these songs are 'soft'. Not a chance. Songs like "Under Your Skin", "Pretty People", and the previously mentioned "Bird Dog" and "Voices" showcase a band that could be pioneers of the Heartland Hard Rock scene. This is an album created by a band completely in touch with their roots yet still willing to take their sound in new directions without giving up their well-earned Hard Rock credentials. Welcome to the REBELATOR rebelution!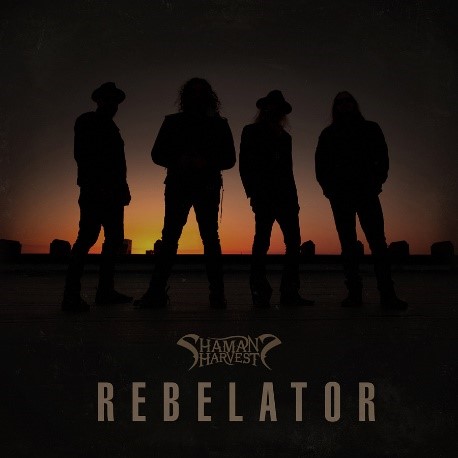 SHAMAN'S HARVEST
REBELATOR
Available NOW!