Best known in the U.S. for his work with Aboriginal band Yothu Yindi, blind multi-instrumentalist Geoffrey Gurrumul Yunupingu (AKA Gurrumul) is the best-selling Australian indigenous musician of all time. His 2009 debut solo album, GURRUMUL, hit #1 on the independent chart and peaked at #3 on the ARIA Charts. The album was eventually certified triple platinum. His sophomore album, RRAKALA, was awarded the Australian Independent Record (AIR) Award for Best Independent Blues and Roots Album in 2011. His third studio release, THE GOSPEL ALBUM, was released in July 2015 and debuted at #3 on the ARIA Charts. The album won him his third ARIA Award for Best World Music Album. And then suddenly, Gurrumul was gone, a victim of kidney and liver disease.
A year after his death, his fourth and final album is hitting the shops to great acclaim. DJARIMIRRI (CHILD OF THE RAINBOW) was actually completed shortly before his death with finishing touches added by friend and collaborator/producer Michael Hohnen. The album features traditional songs and harmonized chants from his Yolngu life mixed with dynamic and hypnotic orchestral arrangements. The album debuted at #1 in the Australian charts, the second Aboriginal artist to have a #1 album. Hohnen says: "Last year, we sat and listened to these recordings over and over again, from beginning to end and piece by piece, pulling them apart and putting them back together until all elements shone." While Gurrumul was active in all aspects of the album, his passing meant that Hohnen had to piece the final release together in memory of the great man himself.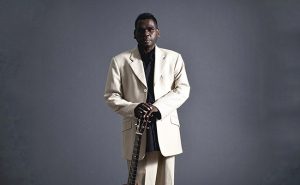 DJARIMIRRI (CHILD OF THE RAINBOW) is a unique and otherworldly release. Part art project and part World Music album, it presents the passionate sound of indigenous music mixed with slices of Classical, Avant-Gard, and New Age.  A departure from his first three albums, this posthumous release focuses on Gurrumul's voice and orchestral (and vocal) accompaniment and does not feature this talented musician playing any of the instruments on the album. While DJARIMIRRI (CHILD OF THE RAINBOW) may not feature English lyrics, one only needs to hear the final results to understand where the music comes from. This is an album born from tradition and then catapulted into the cosmos. It is neither here nor there – it is everywhere.
GURRUMUL
DJARIMIRRI (CHILD OF THE RAINBOW) 
Available NOW!