If you've never heard Sailor, then I feel pretty confident that you've never heard a band quite like Sailor.  One of the most unusual and original bands to emerge from the UK in the mid-'70s, Sailor achieved great success in the UK, Holland and across Europe but never made much of a mark in the U.S. However, the band did attract the attention of American Rock and Pop legends like Bruce Johnston and Curt Boettcher (billed as Becher), both of whom produced their CHECKPOINT album. If you missed Sailor and their albums the first time around, 7Ts/Cherry Red Records is making it easy to catch up with a five CD set entitled SAILOR: THE ALBUMS 1974-78, a box that contains their first five albums including bonus tracks. Fans of band like 10cc, Deaf School, and City Boy should take note…
Formed by songwriters Georg Kajanus and Phil Pickett, the band is best remembered for their unusual instrumentation which they reproduced live using The Nickelodeon, a Kajanus invention made up of pianos, synthesizers and glockenspiels. Henry Marsh and Grant Serpell made up the other half of the band.
SAILOR (1974) introduced the band' unique approach to their music. The songs were catchy and quirky, filled with odd twists and turns, lovely harmonies and a mix of guitars, pianos, synthesizers. Pre-dating the New Wave movement by a few years, Sailor's debut album introduced the synth into Pop music as a viable addition to a Pop combo format. The album's mix of Rock, Folk, and Pop was littered with touches of French Pop, traditional Irish Folk and other European flavors. The first CD contains the complete album plus two additional 7" mixes.
 TROUBLE (1975) was a more confident album, adding meatier arrangements and a deeper understanding of how to turn the Pop formula on its head. "Glass Of Champagne" was a huge hit and sounds like the middle point between Roxy Music and XTC. "People In Love" is not the 10cc track of the same name but sure could have been recorded by Godley/Crème/Stewart/Gouldman if they were on good terms that year. "Girls, Girls, Girls" was another hit and another fine slab of '70s Pop. The whole album is filled with grand ideas, great vocals, and a sense of fun that drips through the speakers.
THE THIRD STEP (1976) continued to throw convention out the window, surrounding their Pop melodies with increasingly creative – and quirky – arrangements. More comparisons to 10cc were appropriate, especially in the vocal arrangements. Sailor's approach to music was serious but didn't take itself too seriously (examples include like "Two Ladies On The Corner" and "Give Me La Samba."). While the album didn't include massive hit singles like "Glass Of Champagne" and "Girls, Girls, Girls," the album is fun from start to finish.
CHECKPOINT ((1977) was produced by The Beach Boys' Bruce Johnston and legendary producer/songwriter Curt Boettcher, both of whom smoothed out the quirky vocal arrangements without altering the band's personality too much. The eclectic approach to their songs was still intact but the melodies were much more immediate. There were a few detours like the Disco-heavy "Down By The Docks" but for the most part, this was Sailor creating their quirky sound for all to enjoy. Disc Four contains the full album plus two bonus 7" edits.
HIDEAWAY (1978) embraced the then-modern sounds of New Wave without sacrificing too much of the trademark Sailor sound.  This was an album that smoothed out some of the quirk and replaced it with even more Pop. The songs were more direct and commercial, with music that recalled bands such as Roxy Music and The Motors. "Stay The Night" even recalled some of the piano-dominated work of songwriters like Andrew Gold. While some fans may have thought HIDEAWAY was a departure from the old Sailor sound, it was merely an album that refined their sound. The hooks were still there and you didn't have to look as hard to find them. Disc Five includes the full album plus four bonus tracks including three non-album sides and a 7" edit.
After these albums, the band has continued in one form or another for four decades. Pickett even toured with Culture Club, co-writing their finest musical moment, "Karma Chameleon." Kajanus has been involved with many different musical projects to varying degrees of success but still remains a few solid musical steps ahead of everyone else…
Keep on truckin',
Stephen THE CHANCELLOR Schnee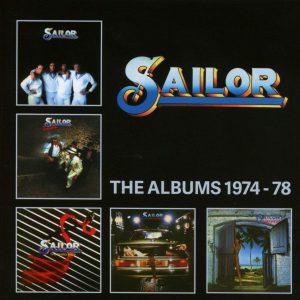 SAILOR
THE ALBUMS 1974-78
(7Ts/Cherry Red)
Available NOW!