According to Wikipedia, Jazz Fusion is "a musical genre that developed in the late 1960s when musicians combined jazz harmony and improvisation with Rock music, Funk, and Rhythm & Blues." During the '70s, Fusion was often looked upon as music for 'sophisticated' listeners. Artists like Miles Davis, Weather Report, and Return To Forever sold plenty of records but seldom would you hear their music played in restaurants or department stores. However, by the end of the '70s, a change was a-comin'. Fusion was always a fluid genre so when certain artists began to take it in new directions, new 'genres' were born. Jazz Rock, Jazz Funk and Smooth Jazz were three of the most popular subgenres that emerged from Fusion's womb. And this is where The Jeff Lorber Fusion (JLF) comes in…
The band – led by keyboardist Jeff Lorber – blended Funk, Fusion, Rock and Smooth Jazz into an instantly accessible sound. While they were still very creative and unpredictable, Lorber managed to smooth the Fusion edges and offer up something that was true to his roots while also more commercially successful. Since then, Lorber has built a career that has worked within the JLF framework and beyond.  He's worked with other artists both as a producer and musician as well as his own recordings. He's even dabbled in remixes as well. Through it all, Jeff Lorber has forged a successful path that finally led him to his first Grammy win this year – Best Contemporary Album for his 2017 release PROTOTYPE.
Now, Lorber is back with IMPACT, yet another solid collection of what can only be described as the Jeff Lorber Fusion sound! This time out, Lorber is joined by Jimmy Haslip (Grammy-winning founder of The Yellowjackets), Andy Snitzer (sax), and guitarist Paul Jackson, Jr. The grooves on IMPACT reveal a band of veterans at the top of their game. Songs like "Hardline," "Arda", "Opt In" and the album opener "Sport Coat Makes Good" are intelligently arranged and energetic tracks that contain all the elements that you've come to expect from Lorber. It is music that engages the listener, challenges their senses, and inspires the soul. The album most certainly lives up to its title.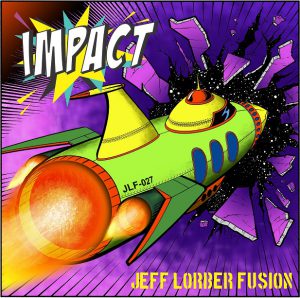 JEFF LORBER FUSION
IMPACT
8.17.18