Here in the U.S., veteran British Punk band The Vibrators are not held in the same high esteem as bands like The Clash, Sex Pistols, Buzzcocks, and a few other of their contemporaries. And I must say that is an oversight that must be corrected. Is it because they were too British? Were they too raw? Did they challenge the listener with stylistic changes to their core sound? Were they too Pop to Punk purists? So many questions, so few answers…
Regardless, the true Punk fans know their music well thanks to the 1-2 punch of their first two albums – PURE MANIA and V2 – but for the most part, the band's music is not always mentioned when conversations turn to the original wave of British Punk bands. To say that is a shame is putting it lightly.  However, the band's self-destruction after their sophomore album and the original line-up's reunion four years later lost them precious commercial momentum and they had to rebuild an audience from the ground up again. Moving from a major label (Epic) to independent labels without the necessary recording/marketing funds didn't help. Thankfully, the band's catalog has been revisited properly and you can experience The Vibrators in all of their glory again. Following the success of THE EPIC YEARS 1976-78 box set, Captain Oi/Cherry Red Records has just released the four CD set THE ALBUMS 1979-85, which picks up their story where the first box left off…
For continuity's sake, I'm going to cover Disc Four of this new box set first. Entitled RARITIES 1979-80, the first half of this 18 track disc features nine demos that singer/songwriter Knox and Eddie recorded with a new crew of Vibrators. With John Ellis, Pat Collier and Gary Tibbs in their rear view mirror, The Vibrators were moving forward with the same energy that fueled their first two albums. While some of these songs appeared in different forms down the line, this set of previously unreleased recordings is definitely the link between the first phase of their career and the second. The most telling track here is "Vipers In The Dark," a track that revealed the Lou Reed/V.U.-influenced direction that the band would eventually follow. But sadly, before the band could find a deal and record proper studio versions of these songs, Knox left the band to pursue other interests. Eddie brought in frontman Kip and continued to move The Vibrators forward.  The remaining tracks on Disc Four feature recordings with Kip including the legendary "Disco In Moscow" single. While the band still occupied a similar musical universe to their previous releases, the tracks were certainly less Punk and more Rock 'n' Roll with nice hooks. There's even a slight Mod influence, which may not be a coincidence since Kip left The Vibrators to join The Chords for their last few singles.
By 1982, the original quartet – Knox, Eddie, Pat Collier and John Ellis – had reunited and they released the album GUILTY. It had been four years since V2 and the band's dynamic was on a different musical plain.  No longer attempting to play hard and fast, The Vibrators were now trying to find their place in an industry that had turned it's back on Punk and embraced New Wave, Synthpop, etc. The Punk attitude was still there and the songwriting was strong but all four members had grown as musicians. While GUILTY isn't a perfect album, it sure is a fab one. There's Pop, Indie Rock, New York-influenced Sleaze Rock and a whole lot more. The re-recording of PURE MANIA's "Baby Baby" may have seemed unnecessary at the time but it actually worked quite well in establishing where they were headed musically. GUILTY is a transition album – four old friends getting used to working with each other again. Disc One features the full album plus three bonus tracks.
ALASKA 127 (1984) established the musical direction of the band's new lease on life and is their best full-length release since PURE MANIA. More relaxed than GUILTY, this album finds the band exploring slightly different musical terrains with less aggression and more attention to song dynamics, melodies and creativity. Keyboards are more prominent on songs like "Baby Blue Eyes" and "Amphetamine Blue" but that doesn't distract from the fact that this is a solid set of songs. Highlights include "Flying Home," Peepshow," and the aforementioned "Baby Blue Eyes" and "Amphetamine Blue." A solid effort that may sound a wee bit dated but it doesn't distract from the great set of songs. Still punks at heart, the lads in The Vibrators weren't afraid to write instantly accessible hooks. This is a solid effort indeed. The band had truly evolved into something new without forgetting where they came from.
FIFTH AMENDMENT (1985) moves even further towards Pop territory with a great collection of trackss. Album opener "Blown Away By Love" features more keyboard work than any song in their catalog thus far. However, the hooks are fab and it remains one of the catchiest songs in their catalog. The track is followed by the bluesy grime of "Rip Up The City," which feels more influenced by New York than London. "Wipe Away" could've been a Graham Parker & The Rumour single. "Frankenstein Stomp" is dirty Rock 'n' Roll. "Too Late For Love" is wonderfully wobbly Pop. And so on… FIFTH AMENDMENT may not have satisfied the Punk elite but it sure stands tall as a wonderfully skewered Pop platter.
If you're looking for edgy Punk, this box does have it's moments but if you want to discover (or rediscover) a band taking their second chance at a career and doing whatever the hell they wanted, this set is a pleasure to behold!
Keep on truckin',
Stephen SPAZ Schnee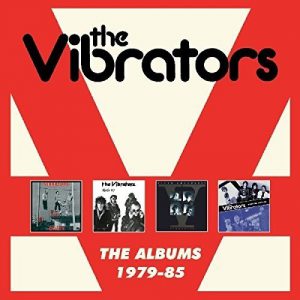 THE VIBRATORS
THE ALBUMS 1979-85
(Captain Oi/Cherry Red Records)
Available NOW!