"Christmas: the final frontier. This is the musical voyage of William Shatner. Its holiday mission: to explore strange yule music. To seek out and inject new life into old traditions. To boldly go where no Shatner album has gone before. This is SHATNER CLAUS!"
OK, perhaps that was a bit too dramatic. And yes, totally predictable. But in a sense, it also sets you up for the ultimate holiday listening experience because SHATNER CLAUS is an insanely fun Christmas album. This is a release that will attract fans of Christmas, Star Trek, William Shatner, sci-fi, novelty music and most certainly thousands of curious minds who want to know exactly what a William Shatner Christmas album would sound like. Well, folks, this is it.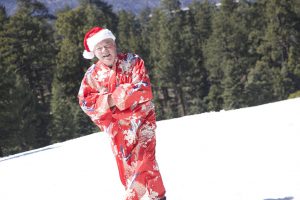 On SHATNER CLAUS, the man we know as Captain Kirk has set his phasers to stun and gives us his unique take on Christmas favorites such as "Silver Bells," "Blue Christmas," "Winter Wonderland," "White Christmas," "Rudolph The Red Nosed Reindeer" and many more. There's even a 'new' Christmas tune making its debut on this album: "One For You, One For Me". But, wait – that's not all!  On SHATNER CLAUS, William is joined by music luminaries such as Punk legends Henry Rollins (Black Flag/Rollins Band) and Iggy Pop (The Stooges), Country Music superstar Brad Paisley, Rock icons Todd Rundgren, Elliot Easton (The Cars), Judy Collins, Rick Wakeman (Yes) and Billy Gibbons (ZZ Top) plus Joe Louis Walker, Artimus Pyle, Mel Collins, and Dani Bender.
SHATNER CLAUS comes on the 50th anniversary of the release of Shatner's infamous debut album THE TRANSFORMED MAN. In retrospect, it has been said that Shatner was 'in on the joke' when it came to that debut album's over-exaggerated dramatic performances of Rock tunes like "Lucy In The Sky With Diamonds" but I beg to differ. That album showed us that William Shatner was, is and will always be William Shatner – a uniquely talented actor, author, entertainer, and national treasure. These days, William plays with his image and has a lot of fun with it. I believe the infamous SNL sketch – where he berated Trekkies at a Star Trek convention – was his first real opportunity to break free of his stereotyped 'method actor; image and finally reveal that his long voyage had finally landed back here on earth. SHATNER CLAUS is just the latest chapter in a job well done. William Shatner IS a rock star.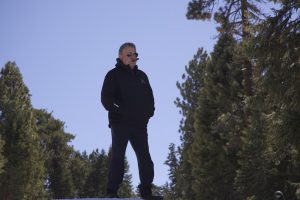 But Bill, if you are indeed, SHATNER CLAUS, can you refrain from leaving your captain's log in my stocking this year?
Keep on truckin',
Stephen SPAZ Schnee