Born in Memphis, Tennesse in 1934, Amos Wells Blackmore, Jr. was better known as Blues vocalist and harmonica player Junior Wells. Acknowledged as one of the amplified blues-harp pioneers, Wells is best known for a string of albums he recorded with fellow Blues legend Buddy Guy as well as his own solo releases. While Wells' signature song, "Messin' with the Kid", was released in 1960, his most celebrated album is his 1965 full-length debut HOODOO MAN BLUES (featuring Guy). Wells' musical career began when he relocated with his mother to Chicago. There, he honed his skills on the blues harp and as a vocalist. Influenced by Little Walter, he joined the Aces and developed his own amplified harmonica style. He was then recruited by Muddy Waters to replace Little Walter and recorded his first sessions with the Blues legend. Wells then began recording a series of independently released singles including "Messin' with the Kid".
Wells' commercial profile was raised significantly with the release of the album HOODOO MAN BLUES. The first of many albums to be recorded with guitarist Buddy Guy, it solidified his position as one of the hottest Blues musicians in the U.S. Dozens of studio, live, and compilation albums followed including IT'S MY LIFE, BABY (1966), BUDDY & THE JUNIORS (1970), ON TAP (1974), GOT TO USE YOUR HEAD (1979), UNIVERSAL ROCK (1986), UNDISPUTED GODFATHER OF THE BLUES (1993), and COME ON IN THIS HOUSE (1996). Although he was facing health issues in the '90s, he continued to perform and record up until his death on January 15, 1997. In the 23 years since his passing, Junior Wells' catalog has continued to grow with posthumous live albums and compilations. His influence and legacy continue to live on, and he left behind an inspiration body of work that will be studied for decades to come.
In 2020, Junior Wells' music is given a new lease on life with the release of BLUES BROTHERS, a collection of recordings that combine original Junior Wells tracks with new instrumentation by many of today's most exciting Blues artists. BLUES BROTHERS features guest performances from guitarists Eric Gales, Joe Louis Walker, Tyler Bryant, Colin James, Kirk Fletcher, Popa Chubby, Pat Travers, Guitar Shorty and others. This set also includes smokin' harmonica from James Montgomery. Includes fresh versions of such Junior Wells classics as "Good Morning, Little Schoolgirl", "Baby, Scratch My Back", "You Don't Care", "Worried Life Blues", "You Gotta Love Her with a Feeling", "Hoodoo Man Blues", "Messin' with the Kid", and many more. Without abandoning the thrill of Junior Wells' recordings, these versions blow off the dust and give each song a shiny new spin. They don't try to erase the memory of the originals. Instead, they add a new dimension and present Wells' energy and excitement to a new generation of Blues fans. .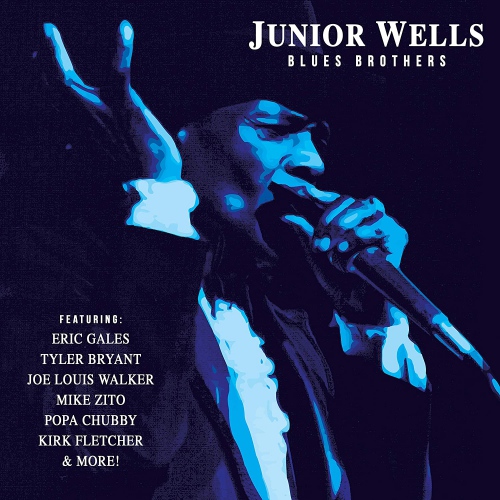 JUNIOR WELLS
BLUES BROTHERS
Available NOW!