Although filmmaker John Carpenter had already directed two feature films – DARK STAR (1974) and ASSAULT ON PRECINCT 13 (1976) – he came to prominence with his 1978 film HALLOWEEN. The movie redefined horror and independent filmmaking and ushered in a legion of copycats. Carpenter then went on to direct films that thrilled a generation of movie-goers: THE FOG (1980), CHRISTINE (1984), STARMAN (1984), BIG TROUBLE IN LITTLE CHINA (1986), THEY LIVE (1988), and more. Regardless of what the critics or box office said at the time, his films have become part of pop culture. Even today, over 30 years after the 1980s ended, images and dialog from his films are still referenced on social media and in memes. And one should always be reminded that Carpenter was partially responsible for the reinvention of actor Kurt Russell, who went from being the kid that kicked Elvis Presley's shin in IT HAPPENED AT THE WORLD'S FAIR (1963) to portraying Presley in the Carpenter-directed TV movie ELVIS (1979). And as we all know, Russel went on to kick everyone's butt in the four decades since then.
One of the most impressive aspects of Carpenter's career is that he was – and has always been – more than just a director. He's been a writer, producer, executive producer, and editor throughout his career. On many of his films, he's worn several hats, ushering in a series of fantastical films that he had control over, from top to bottom. However, one of the most important aspects of Carpenter's films has been the soundtracks. The atmospheric music that added another dimension to his movies was composed by – you guessed it – John Carpenter himself. Yes, that HALLOWEEN film music that haunts you in your dreams and is often used in Halloween mazes and attractions every October. From his first independent short film in 1969 up through the 2018 reboot of HALLOWEEN, Carpenter composed the electronic music score to 20 of the 30 films he has been involved with over the years. His discography is filled with soundtrack recordings stretching back to the late 1970s, but his first official non-soundtrack studio album, LOST THEMES, wasn't released until 2015. Recorded with his son Cody Carpenter and his godson Daniel Davies, the album proved that Carpenter was still on top of his musical game. The album was followed by LOST THEMES II, released in 2016. And then he returned to the HALLOWEEN franchise and composed the soundtrack to the reboot…
In 2021, LOST THEMES III: ALIVE AFTER DEATH, his third non-soundtrack recording, finally arrives, filled with new music composed and played by Carpenter, Carpenter, and Davies. The music on LOST THEMES III isn't far removed from Carpenter's soundtrack work, yet it adds so many layers that it operates on its own as a collection of atmospheric electronic Pop. Each track has a central music hook that appears early on, but as the song progresses, you start recognizing new hooks and new moods that float in and out of each track. Not unlike Tangerine Dream, Carpenter & Co. build mental images through their music. Sticking to the genre he is best known for, the titles of the tracks on this album embrace a horror theme: "Weeping Ghost", "The Dead Walk", "Dripping Blood", "Skeleton", and "Turning the Bones". From floating keyboard hooks, to bone-shaking electronic beats, LOST THEMES III: ALIVE AFTER DEATH serves as an excellent soundtrack to the horror of the night and the redemption of the day…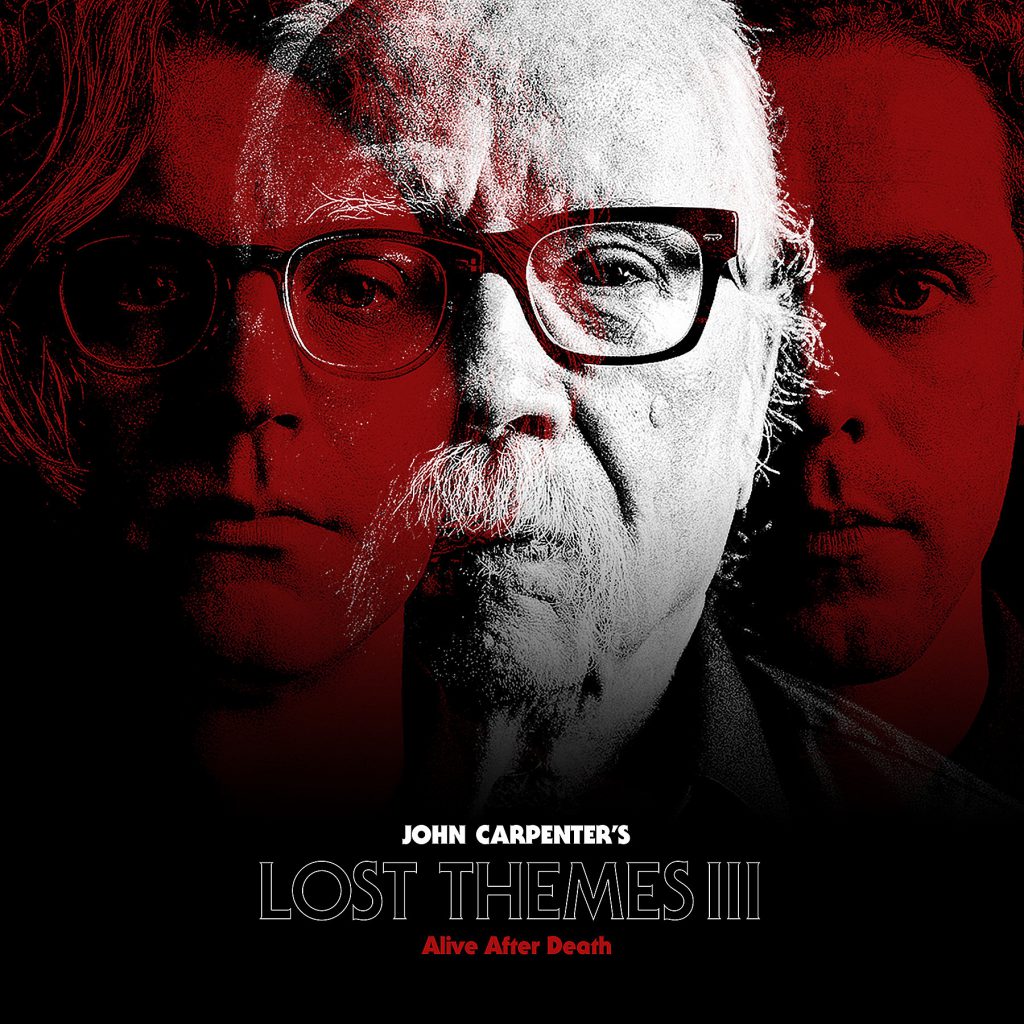 JOHN CARPENTER
LOST THEMES III: ALIVE AFTER DEATH
Available NOW!