NIGHT STALKERS, originally released in 1984, was Ingram's third and final album. And before you jump to conclusions, this band of Ingram siblings was not related to Grammy-winning singer/songwriter James Ingram although there is a member of this act who goes by the named James/Jim! This album features the multi-talented former basketball player Norman AKA Butch Ingram (bass and trumpet) joined by his siblings James (vocals, keyboards, sax, flute), Barbara (vocals), Billy (guitar, bass, trombone), John (lead vocals, drums, tuba), Timmy (drums, percussion, trumpet) and Francis, Edith, and Virginia (vocals).  Unlike most other family bands at that time, Ingram was a self-contained unit – writing, arranging and producing their own material.
Recorded at Starr Recording Studio in Philadelphia, NIGHT STALKERS is a slick and sassy platter that combines elements of Soul, Funk, Jazz, Electro and R&B into one big shimmering party. From the slow and sexy "Just For You" to the Space Funk groove of the title track, NIGHT STALKERS is an engaging album by a band that should have sold a lot more records than they did. But alas, not many R&B acts at the time were able to compete with the Jackson brigade (Michael, Janet, etc.) and the Prince posse (Prince, The Time, Vanity 6, et al). Regardless, the album has grown in popularity over the years, gaining new fans with each generations.
     Out of print for years on vinyl, the album has finally received the remastered treatment and has grown in size with the addition of two extended remixes added to the original album: "With You" and "Girl What's Going On." This digitally remastered edition will take you straight back to the '80s when the groove was king and the Funk was smooth. You don't need a DeLorean to travel back to the funky future!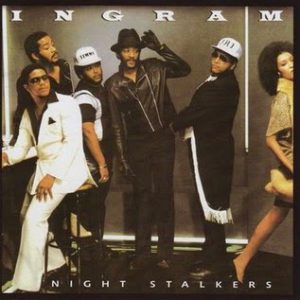 (Digitally remastered and expanded edition)
Keep on truckin',
Stephen SPAZ Schnee