Originally from San Mateo, CA, singer, songwriter and guitarist Eric Lindell began his career playing the Bay Area live circuit in the late '80s and early '90s. Influenced by the Punk, Indie Rock, and Funk/Soul scenes, his music continued to morph into something that he could call his own. Seeking greener pastures and inspiration, he uprooted and moved to New York. After a short stint on the East Coast, he set his sights on New Orleans and moved there in the late '90s. It was in New Orleans that Eric Lindell found his own musical voice. Mixing Blues, Soul, Rock, Funk and a keen ear for a catchy melody, Eric released a few indie releases before signing with Alligator Records and releasing his first album for the label in 2006.
While some musicians may have wanted to sign to a major label, Signing to Alligator was, and is, far more prestigious. The legendary Blues label was founded by Bruce Iglauer in 1971 and has featured some of the genre's most respected artists on its roster including Charlie Musselwhite, Roy Buchanan, Robert Cray, Albert Collins, Marcia Ball, Lonnie Mack, Rufus Thomas, Clarence 'Gatemouth' Brown, Elvin Bishop, and many others. With a rich back catalog and an uncanny knack for discovering new, raw and exciting talent, Eric Lindell certainly fits that bill.  Lindell recorded two more albums for Alligator before heading back out into the wild and recording for other independent labels. However, it was inevitable that he would eventually return to the Alligator fold and thankfully, the New Year brings REVOLUTION IN YOUR HEART, Lindell's first album for the Blues label in a decade.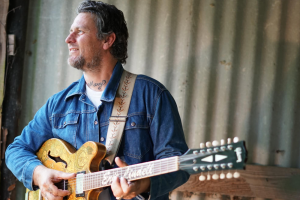 REVOLUTION IN YOUR HEART is soulful, joyous, bluesy, and chock-full of infectious songs. From opening track "Shot Down" to album closer, "The Sun Don't Shine," the album is passionate, smooth and filled with warmth and charm. REVOLUTION IN YOUR HEART is most certainly a Blues album yet it can also feel comfortable filing it under Rock or Soul. And speaking of 'comfortable,' this is an album that you can instantly connect with. While Lindell is a masterful guitar player, he plays with feeling and skill never once taking songs in directions they shouldn't go in. REVOLUTION IN YOUR HEART is a great night out… or a great night in. Get comfy and hit 'play'….