Although their name might imply that they may be a Country or Southern Rock band, The Kentucky Headhunters defy categorization. Their sweaty, chest-pounding sound has it's roots in classic Rock 'n' Roll, Country & Western, Blues, and R&B and sounds great in a beer-stained Country roadhouse, a dusty and dry Summer Bluesfest, and in the comfort of your own home. The Kentucky Headhunters play music that sounds like it was grown and harvested deep in the heart of America. The band never plays it safe and always comes out swinging. They are rowdy, rough, and rockin'… and not necessarily in that order. The Kentucky Headhunters are fearless at what they do. And no matter what you call it, The Kentucky Headhunters do it very well.
The band's origins stretch back 50 years. From 1968 until '82, Fred Young, Richard Young and Greg Martin were three of the members of Itchy Brother. Four years after that band split, Fred, Richard and Greg formed The Kentucky Headhunters. In 1989, the band released their debut album and gained critical acclaim, appealing to fans of Country, Blues and Rock. Thirty years on, the Grammy-winning band's line-up is mostly intact and they possess more youthful energy than they did back in their commercial heyday. The Kentucky Headhunters may not be the most prolific band when it comes to studio albums – they've released nine under their own name – but they set the stage on fire (figuratively) when they take their show on the road.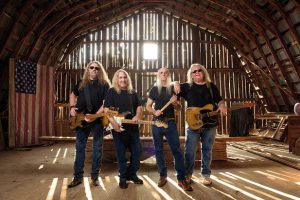 THE KENTUCKY HEADHUNTERS LIVE AT THE RAMBLIN' MAN FAIR was recorded in 2016 during the band's first tour of the UK. The audience is electrified throughout, yelling screaming, and clapping along throughout the entire show… even the drum solo! The band turns up the energy and rocks their way through nine originals and covers, proving that their skills set them apart from their contemporaries. Closing the live set with a medley of The Beatles' "Don't Let Me Down" and "Hey Jude" is a nod to both their first visit to England and their understanding and reverence of music that inspired their journey. Adding three unreleased studio tracks from their MEET ME IN BLUESLAND SESSIONS (featuring Blues legend Johnnie Johnson on piano) just sweetens the deal.  Time to get your ya-ya's out, folks!
THE KENTUCKY HEADHUNTERS
LIVE AT THE RAMBLIN' MAN FAIR
(Alligator Records)
1.11.19