George Clinton is the mad scientist of Funk. He assembles some of the most talented and unique musicians in R&B, Soul, Funk and Rock and creates a sound that is miles ahead of any contemporary Funk band on the scene. Case in point: musicians today are just catching up with what George was doing with Funkadelic nearly 50 years ago. And since Funkadelic always had a fluid line-up over the years, their sound was always evolving. However, Clinton was a prolific leader that felt the need to push his brand of Funk forward. Reaching back into formative years, he reformed his late '50s Doo Wop group The Parliaments, renamed them Parliament, and Cosmic Funk was born.
Over the years, Parliament and Funkadelic were active concurrently, operating under the P-Funk umbrella. George Clinton acted more as a leader and director, moving effortlessly between the two projects, guiding them in strange but wonderful directions. The players would overlap but the records were always unique experiences. Funkadelic would remain more popular with the critics and deep music fans while Parliament connected commercially with a wider audience. The presence of bass master Bootsy Collins didn't hurt, either! They even released the anthemic "Give Up The Funk (Tear The Roof Off The Sucker)" from their 1975 Top 40 album MOTHERSHIP CONNECTION. By 1980, the reign of Clinton, Funkadelic and Parliament had been overwhelmed by the Disco movement and the P-Funk mothership stepped back to let the new kids take over. Alas, their influence has lived on over the years so that Clinton sound never went away. George and Funkadelic have resurfaced over the years but Parliament has not released an album since 1980. Well, not until now, that is!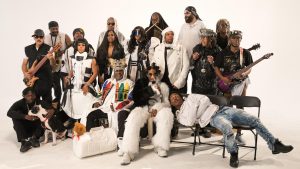 MEDICAID FRAUD DOGG is the first new studio album from Parliament in 38 years. While Bootsy and the old Funk sound may be a thing of the past, Parliament is still Cosmic Funk at its finest. With most tracks penned by George and his son Tracey Lewis, MEDICAID FRAUD DOGG is a strange trip through modern and future Funk with some obvious nods to the past. Since the band's line-up has changed over the years, so has their sound. More like George Clinton solo album with many guests (including Fred Wesley, Pee Wee Ellis, and Junie Morrison), this is an album that is as eclectic as you'd expect from one of Soul Music's most eccentric characters. It is an album that addresses the modern world (including social media, politics, etc.) in weird and wonderful ways. They may not tear the roof off of this sucker but they still know how to move the listener with their music – MEDICAID FRAUD DOGG is a thinking man's Funk/Soul feast.
PARLIAMENT
MEDICAID FRAUD DOGG
(The C Kunspyruhzy)
1.25.19