Thanks to American Idol, The Voice and other like-minded TV shows plus the influence of YouTube, it is perfectly understandable that kids today think that the path to a successful musical career is easy and that nearly anyone can be a star overnight. However, reality paints a darker picture. It is often overlooked that nearly 90% of all TV talent show winners end up without a hit record to their name and they fade away into obscurity almost as quickly as they rose to fame. On the other hand, there are still plenty of modern artists who have toiled in relative obscurity for years before becoming 'overnight sensations'. While not exactly obscure, indie Blues/Rock outfit Reignwolf has taken the long road and is finally releasing their debut album seven years after the band first formed.
For all intents and purposes, Jordan Cook IS Reignwolf. Raised in Saskatoon, Saskatchewan, Canada, Jordan released a solo album – SEVEN DEADLY SINS – in 2010. Two years later, he packed his bags and moved to Seattle, Washington. It was there that he formerly began performing as Reignwolf. Since then, Jordan has gone from strength to strength, playing festivals, building a devoted fanbase, and being called one of the "10 New Artists You Need to Know" by none other than Rolling Stone in 2014. Even with all the early buzz, Jordan took his time in crafting his album. He released tracks/singles between 2013 and 2018 but no full-length release. For a short time, he seemed to disappear from social media. An impatient fan on Reddit started a thread, stating he was convinced that there will be no album. Well, folks, the long-awaited Reignwolf album is finally here!
HEAR ME OUT finds Jordan Cook re-energized and ready to rock your socks off. Joined by bassist S.J. Kardash and drummer Joseph Braley, Reignwolf is coming for you. On the album, Jordan and Co. combine elements of The Black Keys, Nirvana, and Jimi Hendrix into a unique ball of Blues-influenced Rock. Reignwolf doesn't take the Greta Van Fleet route and regurgitate old Zeppelin riffs – Jordan Cook crafts his own memorable guitar licks that will surely please the ever-growing fanbase. The dynamics of this trio are on display throughout the album. "Black And Red" moves from quaking to aching and back again in just a matter of chord changes. "Over & Over" features Cook wailing over an Industrial grind that is still rooted in pure Blues Rock. In fact, much of HEAR ME OUT brings the Blues into a grittier musical universe laced with hints of Industrial and modern Alt-Rock. This is an album that certainly embraces the darker side of Blues, sounding tortured yet eager to make amends with whatever is haunting Jordan Cook. With HEAR ME OUT, Reignwolf continues a journey that started seven years ago – a journey into sound expression that has evolved over time. Come to think of it, maybe it is not a journey at all -maybe Jordan is exactly where he wants to be.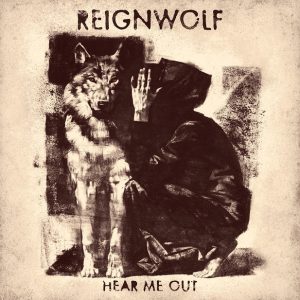 REIGNWOLF
HEAR ME OUT
Available NOW