Pop music is a strangely wonderful artform. On the surface, it can sound deceptively simple and carefree. However, like a calm and inviting ocean, mystery lies beneath the windswept ripples. The melodies may dance around in the ether but there are a lot of moving parts that make them seem effortless. Every beat, every bass thump, every electronic whirl, every guitar strum, and every harmony is there for a reason. It is up to you, the listener, to realize what that reason is. Yes, you can read interviews and find out what the artists' intents are but often times, they don't fully realize the meaning of their songs until years later. On the other hand, one song can mean something different to nearly every person that listens to it. And that, in and of itself, is one of the great mysteries of Pop music.
So, what does this have to do with The Strumbellas' new album, RATTLESNAKE? Well, on first listen, RATTLESNAKE presents a series of hook-filled songs that are instantly accessible to the average listener but once you settle in for the ride and really pay attention, the moving parts reveal themselves. While I don't mean to insinuate that there are dark shadows looming beneath the layers of RATTLESNAKE, there certainly is a lot more depth than a single spin will reveal. For longtime fans of the band, this shouldn't be a surprise since this is the band's fourth full-length album since 2012 and their first since the critically and commercially successful HOPE (2016). The Canadian band's knack for penning arresting Pop is well known, but it is often forgotten that the band's feet are firmly planted on the ground and their Indie musical roots are intertwined with Folk and Country, creating a sound that touches the soul while bathing the listener in audio sunshine.
RATTLESNAKE begins with the recent single, "Salvation," which could easily rub shoulders with crowd-pleasing songs by the likes of Family Of The Year, The Polyphonic Spree, and Arcade Fire. It is uplifting without being too earnest. The Gospel undertones blend will with the sunshiny disposition of the song's melody. "I'll Wait" takes that same emotion to the next level, sounding even more passionate than the album's opener. The jaunty "Running Scared (Desert Song)" takes a stylistic detour without losing the enthusiasm of the first few tracks. The second half of the album offers more surprises with tracks like "The Party," "High," and "All My Life" starting out more intimately before breaking in to big, bold choruses and finales that wash over you like a wave. And that is when the mysteries of The Strumbellas wash over you like a wave from that once calming ocean.
Dive in, the water's fine!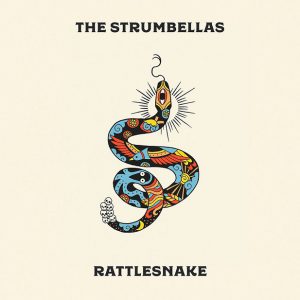 THE STRUMBELLAS
RATTLESNAKE
3.29/19