Being a 'child star' is a blessing and a curse. Initially, the 'blessing' offers the young performer early stardom and adulation. However, the 'curse' revolves around the child star growing older and losing their innocent charm. Sadly, the pressures of maintaining your popularity AND experiencing the trials and tribulations of your teenage years and young adulthood is a very difficult task. Some child stars cannot handle the pressure and spend a good portion of their lives drowning in a sea of drugs and alcohol. Thankfully, there are exceptions to the rule and some of those 'former child stars' manage to grow older gracefully while staying out of the tabloids. Some of them leave the business while others turn their attention to other aspects of entertainment (directing, writing, etc.). And then there's Jackie Evancho. Not only has she survived child stardom, she has succeeded beyond all imagination.
Jackie Evancho first came to the public's attention in late 2009 when she released her debut album, PRELUDE TO A DREAM. Issuing a debut album is impressive enough but one must remember that Jackie was only 9 years old when the album hit the shelves! The album received extra attention when she became a contestant on the fifth season of the popular TV series America's Got Talent in 2010. Instead of tackling Britney Spears/Kelly Clarkson-type Pop, Jackie's Classical Crossover approach wowed the audiences, many of whom believed that she was lip-syncing! Although she only (!) won second place on AGT, she had all the makings of a star. Now, nearly a decade later, she's won numerous awards, sold millions of albums, and remains one of the decade's best-selling Classical Crossover artists. And all of this before she's even reached the legal drinking age! Astounding.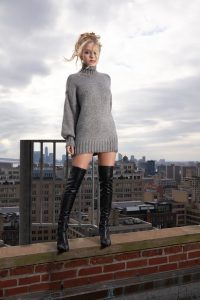 On her 2019 album THE DEBUT, Jackie turns her attention to Broadway. Jackie has matured into a wholly unique vocalist. She knows where to apply softness and where to apply strength in her delivery. Though she doesn't necessarily sound like either, her voice occupies a space in between Sara Brightman and Kate Bush – unafraid, bold yet emotional and full of life. While most of the tracks are commonly referred to as New Broadway, there is a genuine classic in amongst these new gems: "Somewhere" from West Side Story. Other tracks she tackles include songs from Hamilton, Rent, Wicked, The Greatest Showman, Spring Awakening, Once, Dear Evan Hansen, and Anastasia. Technically, it is a 'Broadway' album but it could just as well be classified as Pop, Classical Crossover, or even Adult Contemporary. THE DEBUT is perfect for an evening wind-down or a Sunday morning pick-me-up. We can only wish that other artists who achieved their initial fame during childhood could mature as gracefully as Jackie Evancho has.