STEPHEN SPAZ SCHNEE: The self-titled EURINGER album is now released. How are you feeling about the project and the reaction to it so far?
JIMMY URINE: I have been sitting on this album for two and a half years, not able to talk about it or tell anyone anything. Making sure nothing leaks ahead of time especially with the guest vocalists. So, it feels great to finally be able to show everyone all over the world what the fuck I've been working on. The reaction has been amazing. People really get the whole thing and it is a very complicated concept for a record. It's more like an art installation or an avant-garde movie, so for people to understand it right out of the gate is awesome.
SPAZ: Before asking about the album, why did you choose to release the album under your legal last name Euringer and not Jimmy Urine?
JIMMY: Obviously, my stage name is already derived from my last name — eURINgEr — and that was done because no one ever made fun of my last name as a kid growing up! No one ever called me "urine" and I was super surprised by that, so that's why I used it as my stage name. The reason I went with EURINGER on this record was that before I even started to make this record I wanted to do an album cover art with that fucking neon sign, because that sign is real — my dad had it made back in 1967 and it's been in my house growing up my entire life! I'm surprised it survived as long as it did. I went to visit my parents and snapped that picture of it and I was like, "OK, now I gotta make a whole fucking record to this neon sign picture."
SPAZ: Did you approach the writing and recording of EURINGER differently than you would have approached a new Mindless Self Indulgence project?
JIMMY: I definitely approached it very differently. The main difference – besides exploring different BPMs and the lyrical style – was writing it as if it was a movie script. So, I had all the ideas for the songs in place before I even began writing the music. I knew I wanted a quiet start into a trigger warning then an explosion of sound, and I knew I wanted to end with an old-timey version of "On The Sunny Side Of The Street". I knew the covers I wanted to do and the ideas I wanted to approach, etc. Everything was worked out two years in advance, and then I had to fill that in with the music.
SPAZ: While not as musically aggressive as an MSI release, the album is still sonically and emotionally powerful. However, those moments are balanced out by an underlying sense of joy in creating this music. Even after over 20 years releasing music, are you still discovering new ways to express your ideas?
JIMMY: Oh yeah, I never do the same thing twice. Never have. Every song I've ever written is unique. I always start from scratch with no two sounds the same, and each song is loaded with hundreds of samples and sounds. That makes music creation fun for me every time, and makes the end result unique.
SPAZ: There are some very impressive guest vocalists on the album – Serj Tankian, Gerard Way, Grimes, Chantal Claret and your mom and dad. When doing these collaborations, did you have that certain 'voice' in mind when writing the track or did you let the vocalists pick the songs that inspired them?
JIMMY: It was different for each guest. For Chantal, I had a song in mind from the start. As soon as I had that verse melody I was like, this is for Chantal. Gerard could have sung just about any song on this record as its all kind of in his ballpark, but I wanted him on the song that sounded the most like our two bands melded together. For Serj, I sent him a track and he wasn't feeling it, so then I wrote a new one from scratch for him because I needed something more powerful and in your face for the opener. And for Grimes, I sent her a couple of choices and she chose the track for the melody, the synthesizers and Blade Runner feel.
SPAZ: The album incorporates a lot of influences – from Hip Hop and Industrial to Punk and Electropop… with a dash of classic '70s era Sparks. Was there a certain vibe you were going for on EURINGER or do you let the music take you in whatever direction it chooses?
JIMMY: The vibe was set from the beginning. I said, I want this to sound like Depeche Mode wrote some basic synth songs like "Black Celebration", and then DJ Premier and J. Dilla came in and dropped tons of loops on everything, and then Frank Zappa produced it, and then I came and shit all over it with my voice. And two and a half years later I feel I've achieved that goal fully.
SPAZ: While many moments on the album embrace a Pop esthetic, you inject your own musical personality into the equation and it ends up being a very unique listening experience. Did this project take you on different musical paths you may not have felt comfortable exploring before?
JIMMY: No, I have always been comfortable exploring new stuff. I think the slower tempos and the idea of a four minute or six-minute song allows you to hear what a fucking genius I am. I have been doing this stuff for twenty years except its whizzing by you at 200bpm in one minute, so it's more subliminal. When you hear an MSI song you're like, "Why do I like this? Why can't I stop listening?" You are never sure why. But with EURINGER, I slow it down and, all of a sudden, I am a genius who has matured! Haha!
SPAZ: Your choice of covers is unique and impressive – not many would expect both a Kate Bush and Doobie Brothers song on the same album. What made you choose those songs?
JIMMY: I chose the Kate Bush cover because she is a huge inspiration on certain parts of my multi-genre music. Anytime you hear something pretty or falsetto in my music, that is because of Kate Bush. The Doobie Brothers cover I have been meaning to do for years because it sounds so good sped up and electro rock, so I fixed it for you. You're all welcome!
SPAZ: Does the EURINGER album mark the end of Mindless Self Indulgence?
JIMMY: No way. MSI is alive and well, just on hiatus. I didn't want to corrupt the MSI sound at all. I think fans of MSI want that sound and should get that sound, and if I want to experiment in a different way I make a different project. Thus, The Left Rights, Cinematic Sounds, EURINGER, etc. That way Mindless stays Mindless. In twenty years, MSI has never sold out, even though we absolutely would if someone gave us a bunch of money! Haha!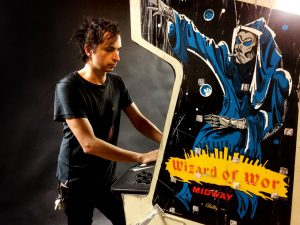 SPAZ: What's next for Jimmy Urine/Euringer?
JIMMY: I'm going to be making my next few records and projects in New Zealand, working with local New Zealand artists on everything from videos to mixing and studios and art, and just enjoying my time here in Wellington, the middle of Middle Earth.
SPAZ: What are you currently spinning on your record/CD players?
JIMMY: These days, mostly I get soundtracks or old school Hip-Hop because that is what I love to listen to when I drive. Current CDs in my players include the soundtrack to MANDY by the late Jóhann Jóhannsson. It was his final completed score before he passed away and it is so fucking good, and a great film. Also, John Carpenter's LOST THEMES II, the follow up to his first LOST THEMES album which was his first standalone album that wasn't a direct soundtrack to one of his films. I'm also listening to Blue Öyster Cult's FIRE OF UNKNOWN ORIGIN, which was a record I had on vinyl as a kid and lost. I was thinking about the "Joan Crawford" song and "Veteran of the Psychic Wars" and I was looking through my stuff and realized I didn't own that anymore, so I went out and got that shit.
Thanks to Jimmy Urine/Euringer
Special thanks to Larry Germack and Jim Smith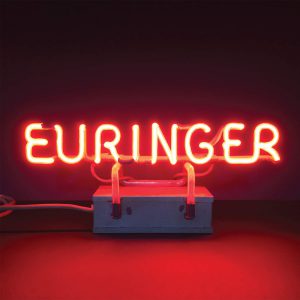 EURINGER
EURINGER
Available NOW!