Australia has always been a country that takes influences from the U.S. and UK, blending them together and creating something new and interesting.  This phenomenon has been happening for decades – most successfully in the '80s – and definitely sets bands Down Under apart from their American and British counterparts. Newcastle's Trophy Eyes is no exception. Signed to Hopeless Records, the Punk-fueled Aussies fuse Punk-Pop, Emo, and Hard Rock together, sprinkling their musical confections with just the right amount of catchy hooks. The melodies soar, the powerhouse rhythm section pounds and the guitars slash and burn. While this might not be your grandad's Punk Rock, it certainly checks all the boxes that inspired your older brother.
Trophy Eyes' 2018 album THE AMERICAN DREAM is both an ode to the music scene that inspired the band and a resurrection of a guitar-fueled Punk movement that is sorely missing in the charts. But the album is no retro visit back to the late '90s and early '00s – this is something that bristles with energy and is most definitely a product of the here and now… or should I say hear and now? Formed five years ago in their former drummer's basement, Trophy Eyes is the sound of rocks tossed into a cotton candy machine – tough and loud yet ultimately sweet and tasty (ironically enough, there is a song on the album called "A Cotton Candy Sky!"). Vocalist John Floreani has a voice that can sound smooth and confident but wait until he slips into the occasional Screamo yell and you'll realize that there is quite a bit of depth to his emotional lyrics.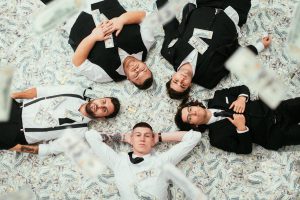 The songs on THE AMERICAN DREAM will most certainly satisfy the band's fans – and fans of Pop Punk. However, the band has matured in the songwriting department as well as the creative musical arrangements. This is not a full-on Punk assault, my friends.  Sure, they've got that wall-of-guitars attack down pat, but the songs explore new musical territories, which brings out the strength of the melodies. There's some great chant-singing (chant-son?) on tracks like "You Can Count On Me" and "Something Bigger Than This" but when Floreani's voice stands front and center, he'll definitely grab your attention. "Broken" is a Pop delight that should introduce the band to a new audience of kids tired of what the Top 40 has become. Even album opener "Autumn" reveals a confidence in Pop songcraft without having to revert to Pop Punk's blueprint. I'm both sad and glad to report that "A Symphony Of Crickets" does not feature cricket samples… although it is a nice acoustic snippet that showcases Floreani's vocal abilities. Overall, THE AMERICAN DREAM is an album that was inspired by a genre but, in the end, rises above it. Hallelujah for that!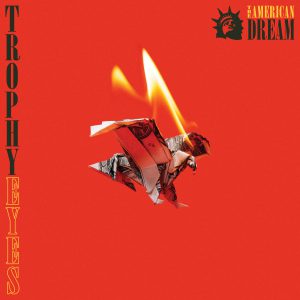 TROPHY EYES
THE AMERICAN DREAM
8.2.18