Born Anaïs Oluwatoyin Estelle Marinho in Hammersmith, West London, the singer, songwriter and poet is better known by her stage name Arlo Parks. She began her musical career by uploading her demos to BBC Music Introducing, which led to her meeting her first manager. Her first solo release was a track called "Cola", which brought her critical and commercial attention. Her first EP, SUPER SAD GENERATION, was released in April 2019, followed by the SOPHIE EP in December of that year. Both EP releases were critically acclaimed and set the groundwork for her first full length album. Apart from critics, she also received public praise from artists such as Billie Eilish, Wyclef Jean, Clairo, Florence Welsh and Phoebe Bridgers.
In February and March 2020, Parks began her first headline tour of Europe. However, the tour ground to a halt when the COVID pandemic hit. While in lockdown, she released several singles including "Eugene" and "Black Dog" as a build up to the release of COLLAPSED IN SUNBEAMS, her debut album. Her fan base continued to grow as she became a press darling, appearing on the covers of Music Week and NME and winning the AIM Independent Music Award for One to Watch in 2020. Anticipation of her debut album continued to grow and now that COLLAPSED IN SUNBEAMS has finally been released, Parks has lived up to the hype… and then some!
While the pandemic and politics darkens the news cycle, Parks' COLLAPSED IN SUNBEAMS offers a quiet, personal heartfelt diversion from real life. However, the lyrics and performances are still rooted in reality, allowing the listener to connect with the emotions that flow from the album. Opening with the title track, a short intro that find Parks reciting her poetry, the album slips into gear "Hurt", a track that lays the foundation for the rest of the album. Combining Pop, Soul, and Trip Hop influences, Parks offers her own unique take on modern Pop. Tracks like the aforementioned "Eugene" and "Black Dog" rub shoulders with the equally wonderful "Caroline" and "Green Eyes", creating a full-length album that grows more intimate with each listen. COLLAPSED IN SUNBEAMS is an album that offers comfort by remaining honest, revealing the pleasure and pain that exists within the heart.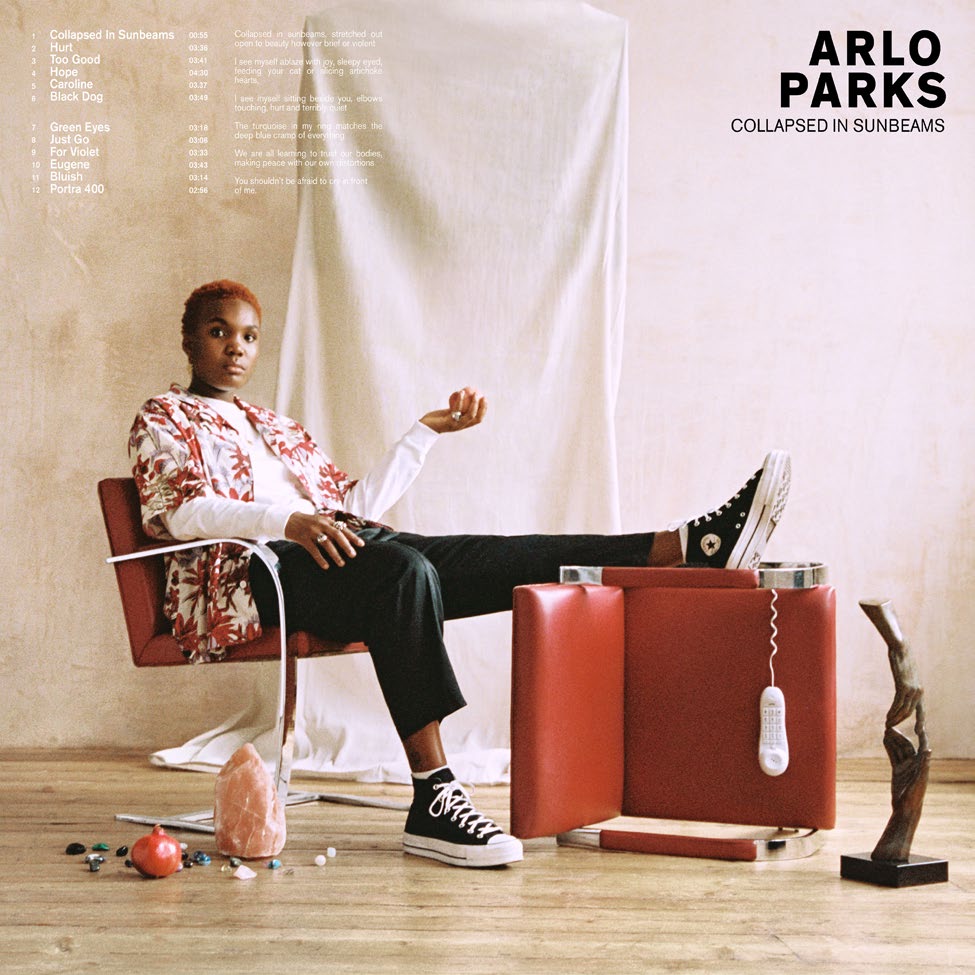 ARLO PARKS
COLLAPSED IN SUNBEAMS
1.29.21