While not the most prolific of bands – they are releasing their fourth album in a 31=year career – New York Post-Hardcore trio Quicksand has certainly left their mark. The original trio's members had their roots in the NY Hardcore scene: Walter Schreifels (guitar/vocals) was originally a member of Gorilla Biscuits and Youth of Today; Tom Capone (guitar) was a member of the groups Beyond and Bold; Alan Cage (drums) was in Burn and played in Beyond with Capone; and Sergio Vega (bass) was involved with both Collapse and Absolution. With a pedigree like that, Quicksand was essentially a Hardcore supergroup. The band moved swiftly, releasing their debut EP six weeks after their formation. After critical acclaim and touring with many high-profile HC and Metal bands such as Rage Against the Machine, Fugazi, Helmet, and White Zombie, Quicksand signed with Polydor. Their debut album SLIP was released in 1993. Two years later, they released their successful sophomore album MANIC COMPRESSION. However, after constant touring and dealing with internal tension and external pressure, the band split at the height of their success.
Two years later, rumors of a Quicksand reunion began to circulate around the globe. That reunion didn't officially happen until 1998. The band played a handful of live show and laid tracks down for what was to be their third album. Sadly, the band split up again and those studio recordings were shelved. The various members went back to working on other musical projects but, unbeknownst to them, Quicksand would arise again. Over 12 years later, the members of Quicksand played their first show together, surprising their legion of fans and igniting speculation about new music and so much more. After playing numerous live shows, a tour, and a lot of teasing, Quicksand finally released their third album, INTERIORS, in 2017. While touring to promote the album, guitarist Tom Capone was arrested for shoplifting and resisting arrest. He left the tour, never to return to the band, and Quicksand continued as a trio. Like all things with Quicksand, their future was always clouded in mystery. Would they record and tour again?
In April 2021, the trio answered that question with the release of the brand-new song "Inversion". Two months later, another new track – "Missile Command" – was unleashed, which signaled the release of the group's highly anticipated fourth album, DISTANT POPULATIONS. Three decades into their career, the group still manages to sound fresh and unique, painting their wall of guitar post-Hardcore sound with proper catchy melodies and pure emotion. The two previously mentioned songs serve as perfect gateway tracks to the album, which reveals even more emotional layers to their sonic palette. Other highlights include "Lightning Field", "The Philosopher", "Rodan", and "Compacted Reality". On "Brushed", the band reveals a softer side which is no less powerful than their shimmering and bombastic guitar attack throughout the rest of the album. Call it Post-Hardcore or 'Shoegaze with an Attitude', DISTANT POPULATIONS is both familiar and fresh, sounding comforting, frightening, and celebratory at the same time.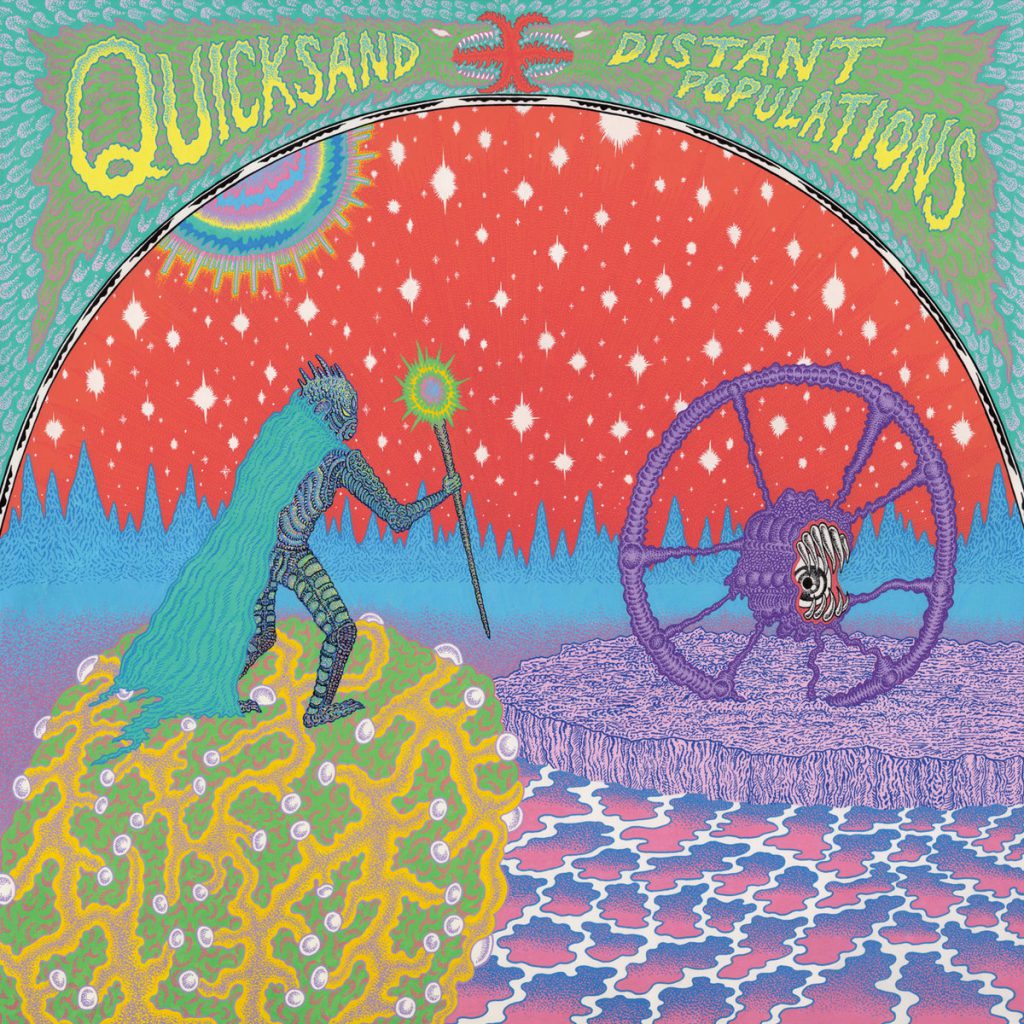 QUICKSAND
DISTANT POPULATIONS
Available NOW!