Although he passed away 55 years ago, Blues musician Elmore James remains an influential musical force today. Often referred to as 'The King of the Slide Guitar,' Elmore's music still resonates in the hearts of fans and musicians alike. While the names Muddy Waters and Howlin' Wolf might be more familiar to the casual music fan, James's musical output is just as important as those esteemed musicians' respected back catalogs. In fact, Elmore's "Dust My Broom" is one of the most familiar – and most covered – Blues songs in Rock history.
In celebration of what would have been his 100th birthday, Elmore James gets the tribute treatment on STRANGE ANGELS: IN FLIGHT WITH ELMORE JAMES courtesy of Sylvan Songs. This collection brings Rock, Americana and Blues artists together to pay homage to Elmore and his music.  From Rodney Crowell to Chuck E. Weiss, Bettye LaVette to Deborah Bonham, the performances on STRANGE ANGELS: IN FLIGHT WITH ELMORE JAMES are just as inspiring as the man himself.
Here's the full tracklist:
Can't Stop Loving You– Elayna Boynton
Person To Person –Bettye LaVette
Shake Your Money Maker –Rodney Crowell
Done Somebody Wrong –Tom Jones
Mean Mistreatin' Mama –Warren Haynes w/Billy Gibbons & Mickey Raphael
Dust My Broom –Deborah Bonham
It Hurts Me Too –Jamey Johnson
Strange Angels –Shelby Lynne & Allison Moorer
Look On Yonder Wall –Keb Mo'
My Bleeding Heart –Mollie Marriott
Hawaiian Boogie –Chuck E. Weiss
Dark And Dreary –Addi McDaniel
Bobby's Rock –Elmore's Latest Broomdusters
One of the creative forces behind this tribute album is drummer/producer Marco Giovino, the Boston-born musician who has worked with a wide array of artists including Tom Jones, Don Henley, Buddy Miller, Bobby Bare, Loretta Lynn, Norah Jones, John Cale, Patty Griffin and many others. Marco was also a member of Robert Plant's Band Of Joy and played with the former Led Zeppelin vocalist in 2010 and 2011. Marco himself was responsible for securing many of the artists that played on this collection.
Marco says: "Elmore is what they would call today the 'Triple Threat'. He could write, sing and play. My intention with this record was to find artists who could help highlight all three of those areas that he excelled at. Not just one. I mentioned a few artists we could ask and Tom Siering suggested donating all proceeds to charity.  Without Tom, by my side in support of this project and the recipient charities, none of this would have been possible. His love and passion for the music and respect for the musicians and artists involved easily lifted this album to the level that Elmore's music rightfully deserves."
STRANGE ANGELS: IN FLIGHT WITH ELMORE JAMES is an electrifying collection that pays respect to the original recordings while introducing the music of the Blues great to a whole new generation.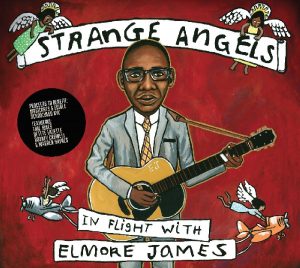 VARIOUS ARTISTS
STRANGE ANGELS: 
IN FLIGHT WITH ELMORE JAMES
Available NOW!