SIGN OF THE DRAGONHEAD 
is the seventh album from German/Norwegian Symphonic Metal band Leaves' Eyes. It is their first full-length album to feature Finnish vocalist Elina Siirala, who replaces original vocalist Liv Kristine. Elina's impressive live premiere in front of more than 20,000 metal heads at the Hammersonic in Jakarta / Indonesia and other subsequent live shows established Elina as a charismatic frontwoman with a powerful voice, immediately sparking euphoria among Leaves' Eyes' fans.
SIGN OF THE DRAGONHEAD 
mixes Folk-inspired melodies with the power of Metal and the sophistication of Classical Music and Opera. Their lyrics tackle Norse Mythology and the Viking Age. Keyboardist/co-vocalist Alexander Krull and virtuoso guitarist Thorsten Bauer prove to be ingenious masters when it comes to composing haunting metal hits. Every track has the musicians upping the creative ante, revealing 
an impressive amount of diversity without neglecting their trademark sound elements.

Leaves' Eyes musical vision continues to expand and move forward with SIGN OF THE DRAGONHEAD. They have succeeded in creating compositionally complex yet tangible tracks. Perfectly coordinated instrumentation – never top-heavy, always unconventional. Medieval nyckelharpas, fiddles, uilleann pipes and whistles blend naturally with the Metal guise.
This is music that is grandiose, powerful and engaging. This is Leaves' Eyes.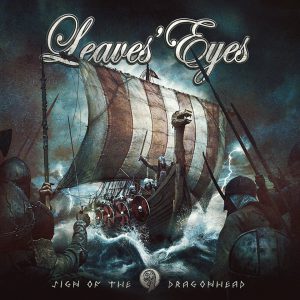 LEAVES' EYES
SIGN OF THE DRAGONHEAD
Available NOW!