Forty years ago, a Rock artist's longevity was not something that was guaranteed. The first Rock 'n' Roll boom of the '50s had been swallowed by the late '50s/early '60s teen idols. Then those heart throbs were dethroned by the British Invasion. That joyful racket was overcome by the Summer Of Love/Hippy scene of 1967. And so on… The new kids would replace the old guard, who would then reluctantly slip into the shadows and wait for nostalgia – or a song used in a movie or commercial – to make them relevant again. In 1979, the Punk movement was initially viewed as a 'novelty' by the industry bigwigs and they certainly didn't expect any of the artists to last beyond a two or three-year window. You know, just like any other musical movement that came along since the days of Buddy Holly and Elvis Presley. Over time, we have learned that nearly every artist from every genre was capable of something much more than their "15 minutes of fame". As for the unruly Punk kids, Bob Mould was going to break the mold…
In 1979, Bob Mould was a founding member of Minneapolis Punk trio Hüsker Dü. The Hardcore Punk sound of their early years matured into a melodic yet very powerful sonic wall of Punk that eventually earned them worldwide critical acclaim and a fanbase that continued to grow with each release. Right when they were on the verge of massive commercial success, the band split in 1987. For many bands, a split can be the end of some members' musical career… until the inevitable reunion, of course. Instead of standing still, Mould dived into a critically successful solo career, releasing two solo albums to great acclaim. Then, wanting to dive back into the harder-edged sound he was known for, he formed Sugar in 1992. After three years, he split that band up and followed the solo route again. And since then, Mould has refused to remain idle. Releasing an album every year or two, he tends to always bring something new to the table. His career has been unpredictable in the best way possible, never serving up the same reheated formula and always taking a few chances along the way. And 41 years after his debut with Hüsker Dü, he still has so much to say.
Mould's 2020 album BLUE HEARTS is, to be honest, an astonishing release. Jam-packed with power and melodic punch, the album is a reminder of what has made Bob Mould such an important artist for over four decades. If you love him for his passion, it is on full display here. Or do you prefer his melodies? This album is a smorgasbord of delightfully delicious hooks that come fast and furious. Speaking of furious, are you a fan of his brisk and bold Punk rave-ups? Well, expect to be knocked over by BLUE HEARTS. The album finds Mould returning to the passion and politics that propelled his songwriting back in 1983. While not a complete return to the sound of Hüsker Dü – his songwriting has matured since then – BLUE HEARTS is about as close as he's come to those heady days. This is an album that is fueled by emotion and melody. It is dangerous, daring, and awe-inspiring. Don't be fooled by the acoustic album opener "Heart On My Sleeve" (complete with vinyl surface noise), because the album takes off like a rollercoaster when "Next Generation" kicks in. The non-stop wall of buzzsaw guitars and hooks leads up to the slower but still emotionally powerful closer, "The Ocean", the perfect ending to a perfect platter. BLUE HEARTS is an album that proves that Mould is still on a roll four decades on. An astonishing accomplishment in so many ways.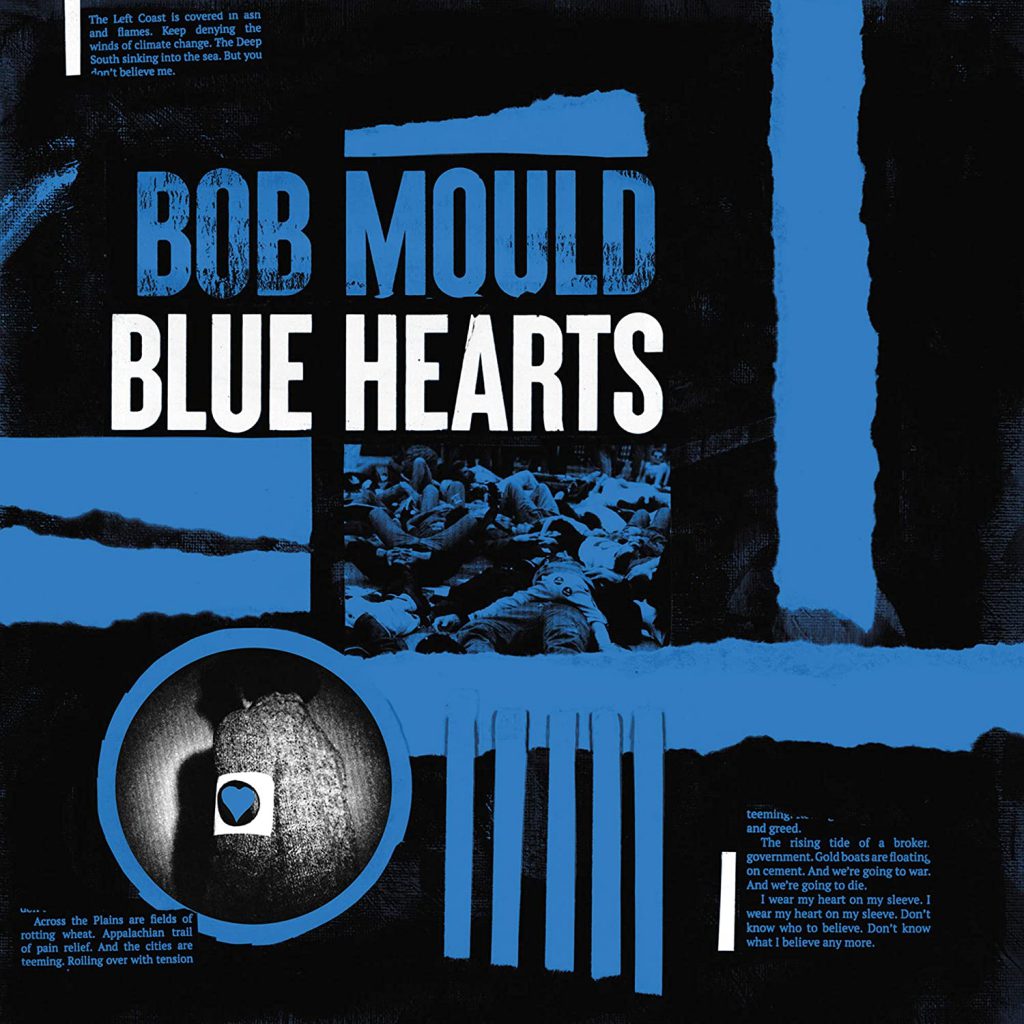 BOB MOULD
BLUE HEARTS
9.25.2020