Like the Blues, Reggae is a musical genre that has been embraced by music lovers and critics alike. In fact, Reggae has been appropriated into nearly every other musical genre, introducing listeners of all ages to the mystical rhythms from Jamaica. The Police's early career was bolstered by their blend of Reggae and Pop/New Wave. Even the Eagles added a splash of Reggae to their massive hit single "Hotel California". However, we can't forget the Jamaican artists that brought Reggae to the forefront and straight into the charts: Bob Marley, Peter Tosh, Jimmy Cliff, Burning Spear, Toots & The Maytals, Third World, Gregory Isaacs, and so many others. While Reggae has long been associated with the smoking of the 'herb', you don't need to be under the influence to enjoy its joyful vibes. Those riddims are infectious!
As we all know, Bob Marley & The Wailers remain the most popular Reggae act of all time. Well, at least outside of Jamaica. Marley was a true musical pioneer, lifting the genre to a new level. Before Marley, Reggae wasn't a household world. After Marley, every household owned at least one Reggae album… and it was probably LEGEND, the most popular Bob Marley compilation of all time. When Bob died in 1981, the world mourned with the Marley family and, while he didn't create the genre, his spirit became one with genre – you can't talk about Reggae without mentioning Bob Marley. Four years later, Bob's son Ziggy entered the musical arena with his Melody Makers (which included his siblings Cedella, Sharon, and Stephen). By the time Ziggy released his third album, CONSCIOUS PARTY, in 1988, he was an international superstar. Over 30 years later, he remains one of the most visible voices in Reggae music.
Ziggy's 2020 release, MORE FAMILY TIME, is the sequel/follow-up to his Grammy-winning 2009 release FAMILY TIME. While the album – like the original – is considered a 'children's album', the album is really a joyful celebration of family, love, and life. On this extremely infectious slice of audio sunshine, Ziggy is joined by a cast of superstars including Ben Harper, Sheryl Crow, Lisa Loeb, Alanis Morisette, Angelique Kidjo, Tom Morello, Busta Rhymes, and Jamie Lee Curtis (!), plus fellow Marleys Stephen, Isaiah, and the Marley Kids. Oh, and we can't forget Romeo, the dog! The hook-filled sing-a-long songs on MORE FAMILY TIME include "Music Is In Everything", "Wonderful People", "Everywhere You Go", and "Play With Sky". However, the album's 11 tracks are infectious and joyful and will provide a perfect soundtrack to family time, beach time, party time, and just about any time you have to spend together with friends and family!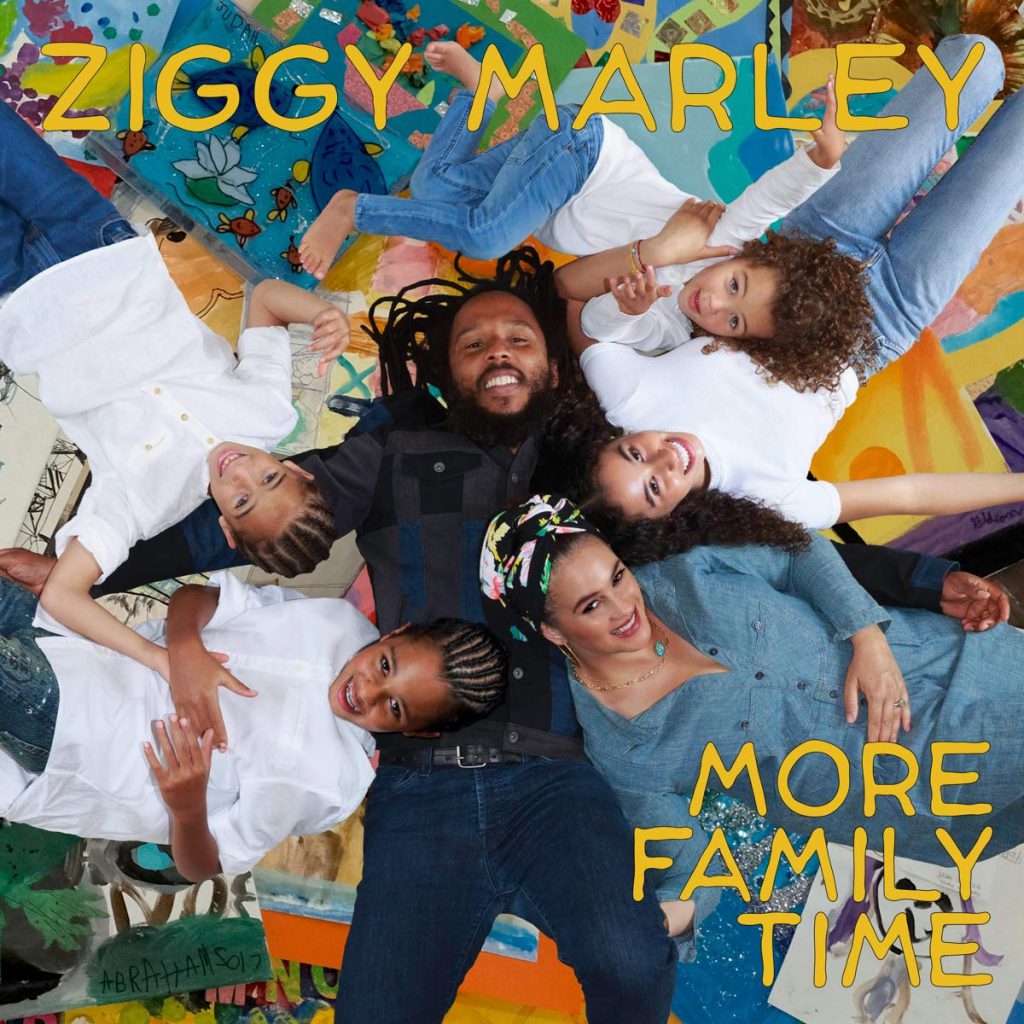 ZIGGY MARLEY
MORE FAMILY TIME
Available NOW!