Randy Brecker is considered a Jazz icon, but throughout his career, he's been so much more than that. The trumpeter began his recording career in 1967 as a member of Blood, Sweat & Tears. He left the band after their debut album, CHILD IS FATHER TO THE MAN, and joined Jazz legend Horace Silver's Quintet. In 1969, he recorded his debut solo album SCORE, where he was joined by his brother Michael on tenor saxophone. For the next 50 years, Randy Brecker nearly 20 solo albums, eight albums with Michael (as The Brecker Brothers), and has worked with a long list of Jazz and Rock luminaries such as Bruce Springsteen, George Benson, Todd Rundgren, Bob James, Ringo Starr, Elton John, Stanley Turrentine, Robert Palmer, Carly Simon, Jaco Pastorius, Rickie Lee Jones, Paul Simon, Spyro Gyra, James Taylor, Michael Franks, Yoko Ono, Donald Fagen, Jimmy McGriff, and many others. Many, many others!
Saxophonist Eric Marienthal is one of the most respected names in Jazz and Jazz-Fusion. His professional career began when he joined trumpeter Al Hirt's band. He then moved over to Chick Corea's Elektric Band, recording six albums with the band. He began his solo career in 1988, releasing a half-dozen albums on the GRP label beginning with VOICES OF THE HEART. He has continued to release a series of successful albums for labels such as Verve/Polygram, Peak, and Shanachie, where he released the acclaimed BRIDGES album with Chuck Loeb. Outside of his solo career, he's also played alongside a variety of acts including The Rippingtons, The Jeff Lorber Fusion, and Gordon Goodwin's Big Phat Band. To top it off, he's played on recordings by Elton John, Aaron Neville, and Ramsey Lewis, among others. Always in demand, Marienthal has continued to surprise and delight his fans for four decades.
Now, in 2020, these two Grammy-winning Jazz greats join forces on the album DOUBLE DEALIN', which is a spirited blend of classic Fusion and straight-ahead melodic Jazz. While we may have expected something special from these two, what we get is something more. There's an electric excitement on display on DOUBLE DEALIN', and album that features funky blasts of horn power as well as some deeply moving softer passages that will take the listener to a more melancholic place. Brecker and Marienthal are aware that you don't have to go 'big' to be powerful and the utter beauty of "Mind The Fire (For Chuck)" is proof of that. Elsewhere, the title track lights a fire that will certainly heat up the room. Other highlights include "3 Deuces", "Fast Eddie", and more. DOUBLE DEALIN' is a feast for the heart and soul and is a powerful musical statement from two veteran musicians.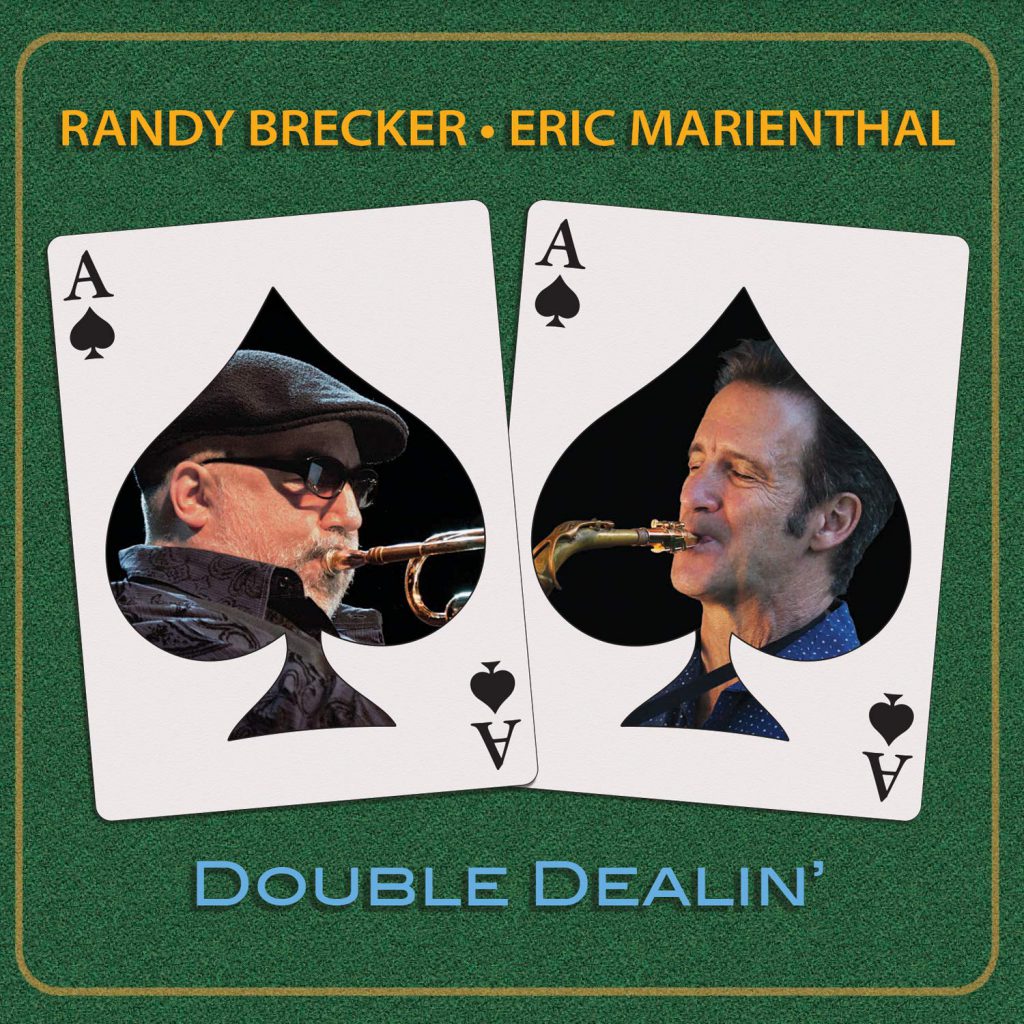 RANDY BRECKER & ERIC MARIENTHAL
DOUBLE DEALIN'
9.11.2020