Soul, retro-soul, contemporary R&B… It really doesn't matter how you prefer to classify Durand Jones & The Indications. What matters is that Durand and Co. are one of the hottest bands in contemporary music. From critical acclaim to commercial sales, the group goes from strength to strength, gaining new fans with every studio release and live performance. Through hard work, perseverance, and an abundance of talent, they've become the new sound of soul music. With a love of the soul music they grew up listening to, Durand Jones & The Indications have embraced the vast possibilities that modern music and technology have given them and they've turned these inspirations into something uniquely their own. Add huge dollops of passion and emotion and you've got a group that keeps moving forward without sacrificing the true soul that inspired them in the first place.
Formed in 2012 in Bloomington, Indiana, Durand and the band spent the next two years writing and recording their self-titled debut album, which was finally issued in 2016. The band's members briefly set the band aside in order to pursue other interests. However, thanks to support from a growing legion of fans (including a large portion of the Chicano lowrider community), the band reconvened and toured in 2017. The following year, they headed to Brooklyn, New York to record their second album. Embracing influences from vocal groups, the band's second album, AMERICAN LOVE CALL (2019), was a bold move forward. Another critical success, the band's popularity continued to grow. During this time, band members worked on various projects including drummer and founding member Aaron Frazer's excellent solo album INTRODUCING… (2021). Durand Jones and the Indication's momentum was slowed down for a short time by the COVID-19 pandemic, but once lockdowns began to ease up in many parts of the U.S., the band's pent-up energy was put to good use as they went into the studio to record their highly anticipated third album, PRIVATE SPACE.
PRIVATE SPACE is yet another bold move forward for Durand Jones & The Indications, adding 1970s disco and 1980s electro soul influences to their oeuvre. The album's energy is one of exuberant hope laced with just a bit of cautious confusion. It is an optimistic release born from a year-long period of uncertainty. However, regardless of the dark times that the world went through in 2020 and the beginning of 2021, the album's overall vibe is sweet and soulful. PRIVATE SPACE's unique sound is due to the band's musical confidence and their understanding of what makes soul music soulful – it comes from the heart AND soul. It is a more intimate album, filled with warm grooves, beautiful chord changes and thoughtful lyrics. While not sounding like Philly soul, many of the songs are most certainly influenced by that early-to-mid 1970s era. Tracks like "Love Will Work It Out", "More Than Ever", "I Can See", "Reach Out" and the title track have a mid-tempo groove that is both emotional and powerful. Uptempo tracks like "The Way That I Do", "Sea Of Love", and the single "Witchoo" will set your heart ablaze while turning you into a sweaty dancin' machine. From their souls to yours, Durand Jones & The Indications' PRIVATE SPACE is a triumph.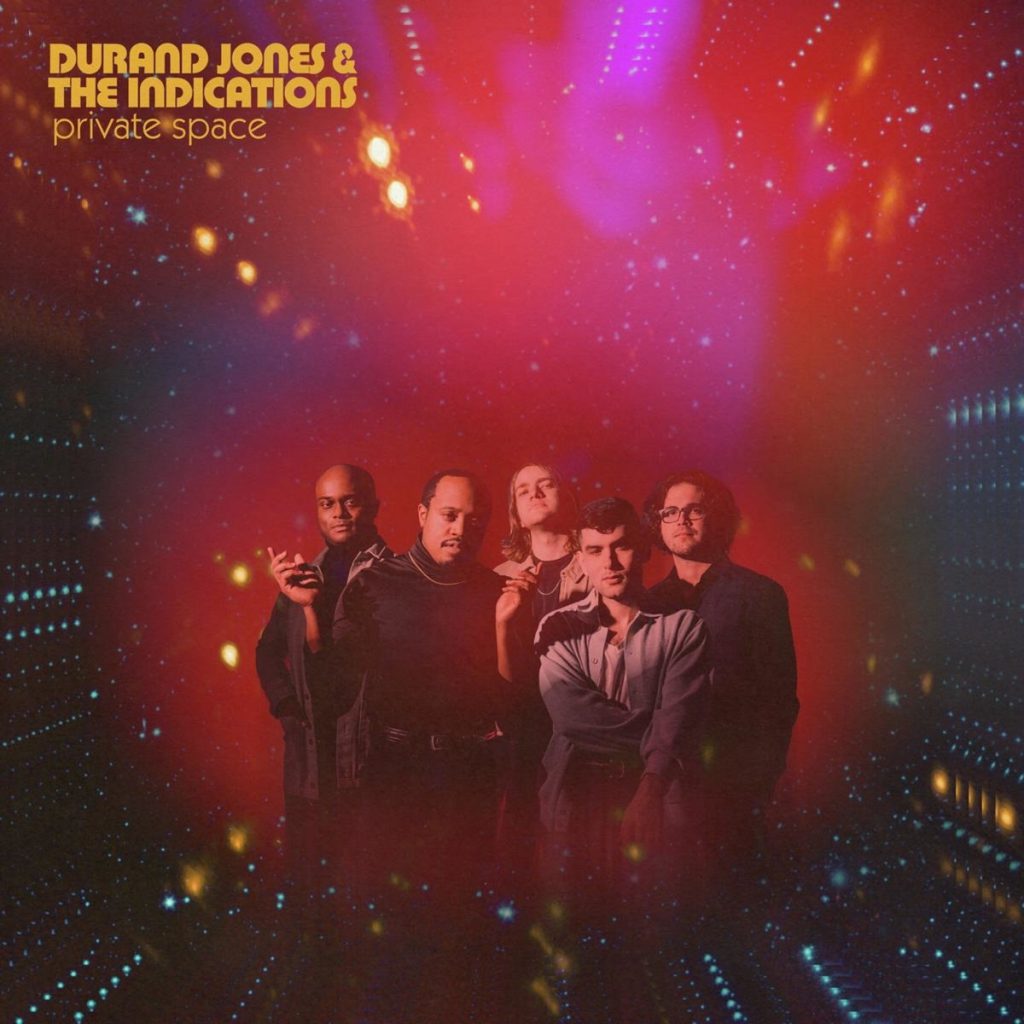 DURAND JONES & THE INDICATIONS
PRIVATE SPACE
Available NOW!