When worlds collide, they can often create a universe that is greater than the sum of both worlds… and so much more. So, using that analogy when talking about music, the end results are either glorious and inspiring or insipid and dull. To be honest it all depends on chemistry and how naturally things fall into place. To make things work, they cannot be forced. The 1986 collaboration between rockers Aerosmith and rap trio Run DMC was inspired. The Beach Boys and The Fat Boys collab in 1987's "Wipe Out", not so much. More recently, modern Country music has been infiltrated by Hip-Hop and Rap artists, creating a new organic musical movement that may not make sense on paper but sounds great on the radio. And why does Country Rap work? Because the artists – and the audience – grew up on both genres. And that is the same reason why CARRY ME HOME by Mavis Staples and Lavon Helm works so well.
Mavis Staples is one of the most respected Gospel and R&B vocalists in the world. For over 70 years, she has followed a musical path yet has gladly taken detours and embraced many other musical genres along the way. Her many musical reinventions have added to her longevity in the music business. As the only surviving member of the legendary Staples Singers, she carries with her a musical legacy that has inspired legions of fans across many different genres. Levon Helm, on the other hand, came to prominence as the drummer of iconic Rock group The Band. Levon and the rest of the group were raised on everything from Folk and Country to Rock, R&B, and every other form of music born alongside the dusty roads that made their way across America. And many of those roads intertwined with the same ones that Mavis Staples' traveled. So, when Mavis Staples appeared at The Band's final concert in 1976 – captured on film as THE LAST WALTZ – her world collided with Levon's and a friendship was born.
That friendship became the collaboration that is CARRY ME HOME, a live performance from 2011 that is finally seeing a release in 2022. The album was recorded in Woodstock, New York, as part of Levon Helm's Midnight Ramble series. Helm had initially started the Midnight Ramble gatherings in 2003 in order to raise money and keep his house out of foreclosure. By 2011, the Midnight Ramble had become a celebration of music, art, love, and faith. So, when Mavis Staples joined Levon and his band, two worlds collided, aligned, and danced across the sky. A concert that feels like a tent revival, CARRY ME HOME lives up to every expectation… and exceeds all of them. While Staples and Helm were unaware that this was the last time that they would perform together – Levon died in April 2012 – this set contains performances filled with excitement, joy, and a love of making music. While there are many highlights, CARRY ME HOME ends with a passionate take on The Band's "The Weight", the song that Mavis performed in THE LAST WALTZ. It is the perfect ending that feels like a celebration. Of love. Of life. Of Levon.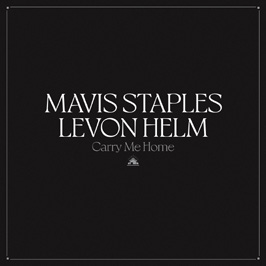 MAVIS STAPLES & LEVON HELM
CARRY ME HOME
Available NOW!