Born in Australia and now  residing in Nashville, TN, singer/songwriter Bex Chilcott – better known as Ruby Boots – creates music that slightly betrays both her homeland and her adopted city. In fact, she manages to cross genres with ease, rarely standing still long enough to adopt any genre as her own. Her 2018 album DON'T TALK ABOUT IT that supports that claim.

According to Bloodshot Records' press release: "In 2016, Ruby met with Lone Star state-bred studio wizards The Texas Gentlemen and the album's eventual producer Beau Bedford. The group had stopped off in Nashville on their way to back Kris Kristofferson at Newport Folk Festival and a mutual admiration society quickly coalesced. The collective pulled a handful of songs from the 40 she had waiting and began recording at their Dallas-based studio Modern Electric Sound Recorders. Informed as much by the wide-open landscapes of her homeland as the intimate writing circles of Nashville, the album may range far and wide but always maintains a firm sense of place."
This long-player opens with "It's So Cruel," a song with a Sex Pistols-influenced guitar crunch and a sassy Blondie-like performance. "Believe in Heaven" is a nasty Alt-Rock stomper. The album's title track is '50s Country & Western shoved through a New York grinder and reshaped into a modern Americana Pop nugget. "Easy Way Out" walks the thin line between Americana and Power Pop and would certainly appeal to fans of early Tom Petty records. "Don't Give A Damn" is an edgy, bluesy slab of melodic grit 'n' spit. "I Am A Woman" – NOT the similarly named Helen Reddy song – is a haunting and very human hymn. And trust me, that is just the tip of the iceberg. The album's obvious musical influences reach back to the Country music of the '50s and follows a path straight through modern Alternative Rock. Avoiding all the clichés of modern Pop production (i.e. processed Disney Channel-esque cheese), DON'T TALK ABOUT IT is an album that is, in many ways, timeless. It twists, turns and contorts it's way through Rock, New Wave, Country, Folk and Pop without pledging it's allegiance to any of those genres. Quite miraculous, really.
Keep on truckin',
Stephen SPAZ Schnee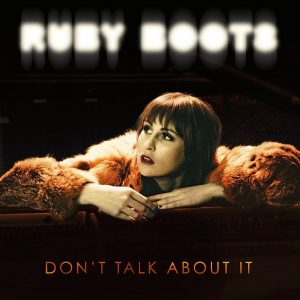 RUBY BOOTS
DON'T TALK ABOUT IT
2.9.18