Naysayers, beware! Pop Punk is not dead. 
While the charts have given way to R&B collabos and Pop-lite fare, there are still artists out there that intend to rock this joint with guitars. Add some sugar-sweet melodies into the mix and you've got a formula that will remind folks of the days when New Found Glory and Blink-182 were everywhere. The '90s and '00s Pop Punk movement was the last time that guitars dominated the Top 40. And besides, it was a more innocent time. Things just haven't been the same since the worldwide economy took a dive in 2008 and social media became more important than news print…
The members of Dallas' Oh, Weatherly grew up in a world filled with hook-laden Pop Punk bands who were still being played on MTV long after it had morphed into a reality television channel. The charts may not currently reflect that there is still a thriving Pop Punk scene but the band's debut album, LIPS LIKE OXYGEN, is the proof in the pudding. Even if the members of Oh, Weatherly have never owned a Buzzcocks or Dickies album, they picked up the Pop Punk baton from their influences (Mayday Parade, The Maine, New Found Glory, etc) and they have every intention of keeping the movement alive.
LIPS LIKE OXYGEN balances the need for aggressive, loud guitars and the desire for engaging, melodic hooks. This is music that will remind Alternative Rock fans that Pop Punk is still a force.  The album's lyrics were born from a crumbling relationship and should have sent the band in a more Emo territory. However, the band's youthful optimism and sense of hope keeps them on the right path. Songs like "Here Tonight,", "I Think I Want You," "Love And Poetry," and "Burned Out" should please purveyors of Pop Punk and keep the genre alive and kicking.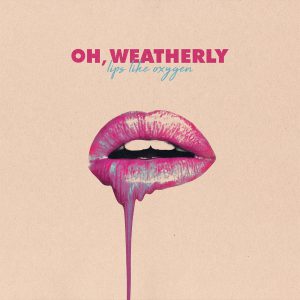 OH, WEATHERLY
LIPS LIKE OXYGEN
7.27.18