STEPHEN SPAZ SCHNEE: Your album, PERFORMANCE, is just about to be released. How are you feeling about how the album turned out and the reaction to it so far?
STEVE TEREBECKI: We are really excited about how the album turned out. This is the first album we've fully produced since LAST DAY OF SUMMER. I've enjoyed working with producers in the past, but being able to run with our own ideas feels the best. So far, people seem excited. "Magazine" was a different kind of style song for us, so it was cool to see it get picked up by so much radio.
SPAZ: Do you generally begin the recording process with an album in mind or do you start recording and then wait to see what develops once that process begins?
STEVE: We've definitely started a few albums knowing that we needed a final product when the buzzer went off. With PERFORMANCE, we've been recording on and off since December 2016. We have a ton of recordings from these sessions that will be on the next record and the record after that.
SPAZ: The album's influences seem to be drawn from a lot of different sources. However, you manage to bring it all together in a unique way. Did you approach each song with a certain idea on where you want it to go or do your recordings evolve organically?
STEVE: Both. James and I usually have a vibe we are thinking when we present a riff or a song. Sometimes we disclose it, sometimes it's obvious, and sometimes we don't. We all like so much stuff and have different backgrounds in music and so we try to nurture that fact so it comes out in the songs. We think variance is a good thing on a record, so we embrace it.
SPAZ: What is the songwriting process for the band like? Every song on the album features a few exceptional hooks, whether it is a vocal melody or a guitar riff. For example, "It Might Get Dark" has a verse melody that could be Mungo Jerry in a glam mood but then sails off into lovely 10cc/Paul McCartney territory.
STEVE: There are lots of ways to slice it and each way gets its own unique result. Some ideas were demoed out partially, and at least a couple started from one riff. And everything in between. Most of this record was either arranged on the floor just prior to recording, or in post. The mute button has always been our friend. We will stack a recording up with overdubs and then peel stuff back and a lot of times we are doing it based on a gut reaction.
SPAZ: Depending on who you talk to, White Denim is a Psych band, an Indie Rock band, an Alternative Rock band, etc. Is there a certain genre that you feel most comfortable aligning yourself with? Or do you feel that classifying yourself is ultimately pointless?
STEVE: We usually just say rock 'n' roll and just hope people check out more than just one or two songs because we have something for everyone.
SPAZ: In some ways, the album's raw production recalls classic T. Rex and John Lennon's MIND GAMES/WALLS & BRIDGES era. Yet there are prog and psychedelic influences there as well. With so many ideas, do you feel you have to reign yourselves in? Or do you like adding as many layers to your audio cake as possible?
STEVE: Well, we've sort of returned to the audio cake after a two-album break. Audio cake is where we feel most comfortable. We've felt super reigned in working with outside producers. It wasn't a bad thing, just different.
SPAZ: Is there one particular track on PERFORMANCE that you feel represents the overall feeling of the album? Perhaps a 'gateway' track that would give a new listener a hint at what is to come?
STEVE: Hmm, maybe the track "Performance". All in under 3 minutes.
SPAZ: The album is a strong, cohesive piece of work. Do you feel that the album, as an artform, is sometimes lost in the streaming age?
STEVE: Yes. Sometimes we feel ridiculous for continuing to make records, but we wouldn't have it any other way.
SPAZ: What is next for White Denim?
STEVE: We are maybe 50-60% done with another record. We have more sessions on the books and could possibly finish before PERFORMANCE comes out. Then we tour PERFORMANCE through April, and figure out a game plan for the new release.
SPAZ: What are you currently spinning on your record and CD players?
STEVE: Dur Dur Band, Shintaro Sakamoto, Cass McCombs, Benny Mardones, Minutemen, Soft Boys, Stark Reality, and lots of early ECM jazz.
Thanks to Steve Terebecki
Special thanks to Steve Dixon and Dave Rayburn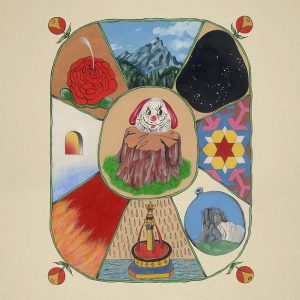 WHITE DENIM
PERFORMANCE
8.24.18