Americana is a modern name for a genre that has existed for decades. Back in the day, many artists were too hard to categorize because they were too Rock for Country, too Country for Folk or too Folk for Rock (or a mix of the three). While many artists today remain difficult to pigeonhole, at least there is the term Americana, which acts as an umbrella genre for bands that fall outside the Country, Rock and Folk guidelines. However, for a band like Murder By Death, it is best to toss any genre label out the window and start from scratch. Yes, they certainly fit comfortably into the Americana genre but they can also be filed in Rock, Country and Folk just as easily. Their latest album, THE OTHER SHORE, is proof of that…
Murder By Death's eighth album in their 18-year career, THE OTHER SHORE is an album that works on many different levels. Listen to it in the light of day and you'll swear that it is as exhilarating as a swimming pool in the middle of the desert. However, spinning the album late at night will bring the ghosts out of the shadows and remind you of the harsh realities of life. Drawing influences from decades of pure American music, THE OTHER SHORE blends haunting Folk and dusty backroads with heart-breaking Country and beer-soaked floorboards by way of a Rock 'n' Roll road trip into the mystic. Like your favorite uncle and a bottle of moonshine, THE OTHER SHORE is both comforting and unsettling at the same time.
While not a dark, gothic musical travelogue, THE OTHER SHORE isn't a mason jar filled with sunshine and marmalade, either. There are moments that can be quite beautiful, musically ("Travelin' Far," "Only Time") but they reveal themselves to be something else entirely once you've allowed the album to penetrate your senses. There are also proper Rock stompers and upbeat songs to lift your 'spirits' including "True Dark," "Stone," "I Have Arrived," and "Bloom." THE OTHER SHORE is an album that defines Americana while also defying it.  Join Adam Turla and Sarah Balliet and the Murder gang on their cosmic journey now!!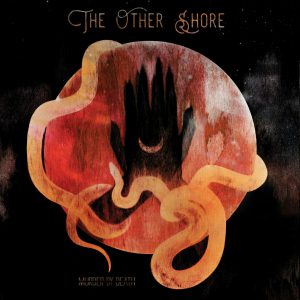 MURDER BY DEATH
THE OTHER SHORE
8.24.18