VENOM & FAITH:
An EXCLUSIVE Q&A with LARKIN POE's Megan and Rebecca Lovell.
SPAZ: Your album VENOM & FAITH is ready for release. How are you feeling about how the album turned out and the reaction you've had so far?
MEGAN LOVELL: Thus far, the response to VENOM & FAITH has been incredibly positive. We feel very fortunate to have a supportive and openminded fanbase; as we have continued to grow and shift over the years, honing our sound, our fans have been willing to make the musical journey of Larkin Poe with us.
SPAZ: VENOM & FAITH is your fourth album. Did you approach the recording differently than on your previous albums?
REBECCA LOVELL: In an effort to foster our self-reliance in the studio, we produced VENOM & FAITH ourselves (and played pretty much all the instruments ourselves as well). Having made music together as sisters for well over a decade, we're deeply musically connected and able to move fast and lean together. As with our previous album PEACH, VENOM & FAITH is all "us" and we really hope that people can hear our souls ringing through.
SPAZ: From Gospel to Blues to Folk, the album blends many American genres into one unique package. However, there is a definite move forward in the Larkin Poe sound. Are you always in search of new ways to present your music or does it happen organically?
MEGAN: Yes, we're always in search of new ways to present our music – but that search is also a completely organic process. Over countless hours of tweaking and experimenting, Rebecca fleshed out all the tracks that folks will hear on VENOM & FAITH. Using GarageBand and a massive sound library, she pulled together a sound palette that we both found exciting, and then together we built the album on top of that sonic foundation. Change requires exploration!
SPAZ: What is your songwriting process like? Do you bring fully formed ideas to each other or are the songs built from the ground up together?
REBECCA: As a general rule, we bring fully formed ideas to one another – but there's always lots of push and pull that takes place whenever a batch of songs are getting stretched into Larkin Poe shape.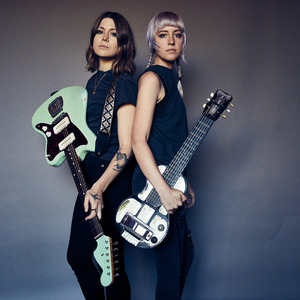 SPAZ: What inspired this particular set of songs? Is there a particular underlying theme or do you feel that this batch of songs worked well together?
MEGAN: I'd say the underlying theme of VENOM & FAITH is "self-discovery." We've made a lot of fun albums over the years, but this one definitely came into being during an especially interesting chapter of our lives: we've dipped into our late-twenties, we've discovered a lot more self-acceptance for ourselves, and we're spending more time than ever out on the road honing our craft! We're learning to lean into our strengths and fully embrace what it means to be Larkin Poe.
SPAZ: What inspired you to choose "Sometimes" by Bessie Jones and "Hard Time Killing Floor Blues" by Skip James as the two covers on this album?
REBECCA: The first times we sung both of these songs, there was an instant connection. We love "Sometimes" and "Hard Time Killing Floor Blues" like they're our own. We wanted to pay tribute to the Blues artists who continue to inspire us and these songs felt like the right moves.
SPAZ: For some reason, people feel the need to shoehorn bands into certain genres. Larkin Poe has been classified as Blues, Americana, and Roots. As the creators of this art, how would you classify your music? Or do you prefer no classification at all?
MEGAN: Many years ago, Elvis Costello cautioned us to defy being put in any "genre box." We try to do our best to follow his advice.
SPAZ: VENOM & FAITH is an appropriate title since it is filled with a raw and dark core but is an ultimately hopeful experience. What do you want the listener to walk away with once they've heard the album in full?
REBECCA: We hope that listeners walk away with a feeling of creative possibility and experience a female-fronted, twenty-first century representation of the blues.
SPAZ: "Beach Blonde Bottle Blues" is the first focus track and single. Do you feel that the song is the perfect gateway track into the album or is there another song that you feel best encapsulates the feeling of VENOM & FAITH?
MEGAN: We love "Bleach Blonde Bottle Blues" and thought it'd be a well-rounded first taste of the album; it's sassy, rootsy, and doused with a healthy dose of southern sensibility!
SPAZ: You've shared the stage with many well-known musical heroes over the years, which I'm sure is a complete thrill. However, is creating and playing your own music more fulfilling on an emotional level?
REBECCA: Since we do write all our own material, performing and creating as Larkin Poe is objectively more fulfilling on an emotional level – but we deeply love performing with other artists. Being given the opportunity to shape-shift into musical chameleons and support legends such as Elvis Costello, Conor Oberst, or Keith Urban is exhilarating and deeply inspiring for our own art. We'll take it all!
SPAZ: What is in store for Larkin Poe as 2019 fast approaches?
MEGAN: Between now and the end of the year, we're going to be doing a lot of touring in support of the new album; we're always posting new shows on our website – in addition to lots of headline shows, we're honored to be supporting Bob Seger on his US tour this winter. We hope folks will come out and see us!
SPAZ: What are you currently spinning on your record/CD players?
REBECCA: LED ZEPPELIN IV and Iron & Wine's OUR ENDLESS NUMBERED DAYS.
Thanks to Megan and Rebecca Lovell
Special thanks to Mike Donohue,
LARKIN POE
VENOM &FAITH

Available NOW!