Los Angeles, California-based singer/songwriter Rosie Tucker came to prominence in 2015 with the release of her debut album LOWLIGHT. Bathed in shadows, the album was a collection of deeply personal songs presented in stripped-down form. Armed with just an acoustic guitar and a bucketful of songs, LOWLIGHT was a stroll through Rosie's world. Thoughtful and introspective, the album hit a chord with many listeners. Four years later, she released her sophomore album NEVER NOT NEVER NOT NEVER NOT (2019), which took her music to a new level. On this full-length release, Tucker embraced an Alt-Rock approach with a full band, although the arrangements were still sparse, allowing emotion to bleed through. Without leaving her Folk-inspired roots behind, Rosie certainly added an edge to her introspective songwriting. While the album was a sonic departure from her debut, Rosie Tucker didn't 'sell out' with NEVER NOT NEVER NOT NEVER NOT – she merely upped her game.
Signing to Epitaph Records, Rosie began work on her third album… and her most high-profile release yet. Without altering her musical course too much, the resulting tracks sounded more positive without losing touch of her unique approach to songwriting. As Rosie Tucker states: "Making this album was such a good time that what's to come almost doesn't matter. What came before it was a long tour, what came just after was a year spent in lockdown. For me, this album is the string between two tin cans, transmitting me from the can labeled 'shitty now' to a can labeled 'sublime next.'" Recorded with her touring band – drummer Jessy Reed, guitarist Jess Kallen, and bassist/producer Wolfy – the results of these sessions make up her third full-length album SUCKER SUPREME.
On SUCKER SUPREME, Rosie Tucker's musical maturity takes full flight. The vulnerable acoustic troubadour that we heard on LOWLIGHT is still present and accounted for (just listen to the first half of "Arrow" for proof), yet she has also grown by leaps and bounds as a vocalist and songwriter. On this album, she sounds filled with more confidence and bravado than ever before. The Alt-Rock artist we heard on NEVER NOT NEVER NOT NEVER NOT has an even firmer grasp on the melodic hook, filling SUCKER SUPREME with plenty of tunes that will bounce around inside your brain long after the album ends. Cuts like "Ambrosia", "Habanero", "Brand New Beast", "Airport", and "Dog" are highlights. This is an album that is smoother and more immediate than NEVER NOT… but still just as edgy and thought-provoking as anything else Rosie Tucker has released.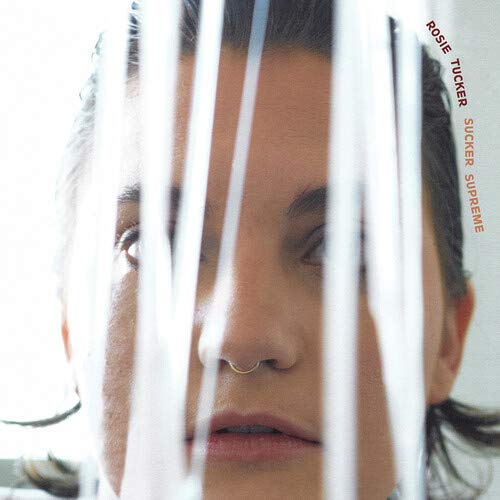 ROSIE TUCKER
SUCKER SUPREME
Available NOW!