Ever since his days as the singer, songwriter, front man, and ringleader in Oingo Boingo, Danny Elfman has always been unpredictable. He first came to prominence in his brother Richard Elfman's 1980 film FORBIDDEN ZONE, in which he performed with his band – then called The Mystic Knights of the Oingo Boingo. In 1979, the group shortened its name to Oingo Boingo and streamlined their sound into a quirky New Wave beat. Immediately, they became a sensation in their hometown of Los Angeles, releasing an EP on I.R.S. Records before signing with A&M Records. Oingo Boingo became the most played local band on KROQ, one of the most influential radio stations in Southern California. Hits like "Ain't This the Life", "On the Outside", "Private Life", "Only a Lad", and "Grey Matter" revealed a songwriter like no other. Dramatic, creative, and cerebral, Danny Elfman took Pop, Rock, and New Wave into new and exciting directions. Somehow, their massive success on the West Coast was only trickling into other states and barely resonating outside of the U.S. Elfman and the band needed to make a change if they wanted to achieve greater success…
Switching over to MCA Records, Danny Elfman released a solo album in 1984 before Oingo Boingo finally scored a commercial hit with their theme to the 1985 motion picture WEIRD SCIENCE. With a poppier sound, Oingo Boingo scored several more minor hits for MCA before changes behind the scenes altered the future of both Danny Elfman and the band. Interested in composing film scores, Elfman collaborated with director Tim Burton on several film projects. At the same time, Oingo Boingo was still creating music, which had become a bit darker by their 1990 album DARK AT THE END OF THE TUNNEL. Balancing both his burgeoning career as a film composer and being the leader of a Rock band became overwhelming and the 1994 album BOINGO was the band's final release. However, his career as a composer went from strength to strength. Between 1986 and 2020, Danny Elfman has composed the scores to dozens of films including PEE WEE'S BIG ADVENTURE, BEETLEJUICE, BATMAN, EDWARD SCISSORHANDS, MARS ATTACKS!, MEN IN BLACK, GOOD WILL HUNTING, SPIDER-MAN, SCROOGED, JUSTICE LEAGUE, and many, many more. His best-known soundtrack is THE NIGHTMARE BEFORE CHRISTMAS, a monumental mix of musical mayhem that is now considered a holiday classic… during both Halloween and Christmas! With his schedule dominated by film scores, Danny Elfman has not released a Rock/Pop album since the final Boingo album in 1994… until now!
Like everyone else, Danny Elfman has felt the emotional strain of the COVID pandemic, politics, and civil unrest. When he and the world were faced with lockdown, he took his creative energy into his studio and began piecing together a collection of songs inspired by these dark times. And in 2021, he releases BIG MESS, his first solo 'rock' album in 37 years. This double-album opus is most certainly not what you might expect from the man that sang "We Close Our Eyes" and "Gratitude" some 30+ years ago. In fact, BIG MESS is a mixture of everything he has done since the beginning of his career. The core of the album is a heavy Rock stomp – closer to the Industrial genre than the quirky jive of Boingo – mixed with big emotional cinematic sweeps, making this album sound like a twisted stage musical performed deep in the heart of madness. BIG MESS is an album that unveils itself depending on the mood of the listener. Is it "Happy" or "True"? Will you "Choose Your Side" or "Get Over It"? ("Sorry" about the song title puns). BIG MESS sounds like the troubled times that we are living through. It offers us a voice to express those thoughts that we often have when we are alone in the dark. It is an emotionally heavy album, but it is not without hope. We most likely will never hear new music by Oingo Boingo, but at least we are lucky that Danny Elfman has (briefly?) returned as a solo Rock artist. It is most definitely 'good for your soul'…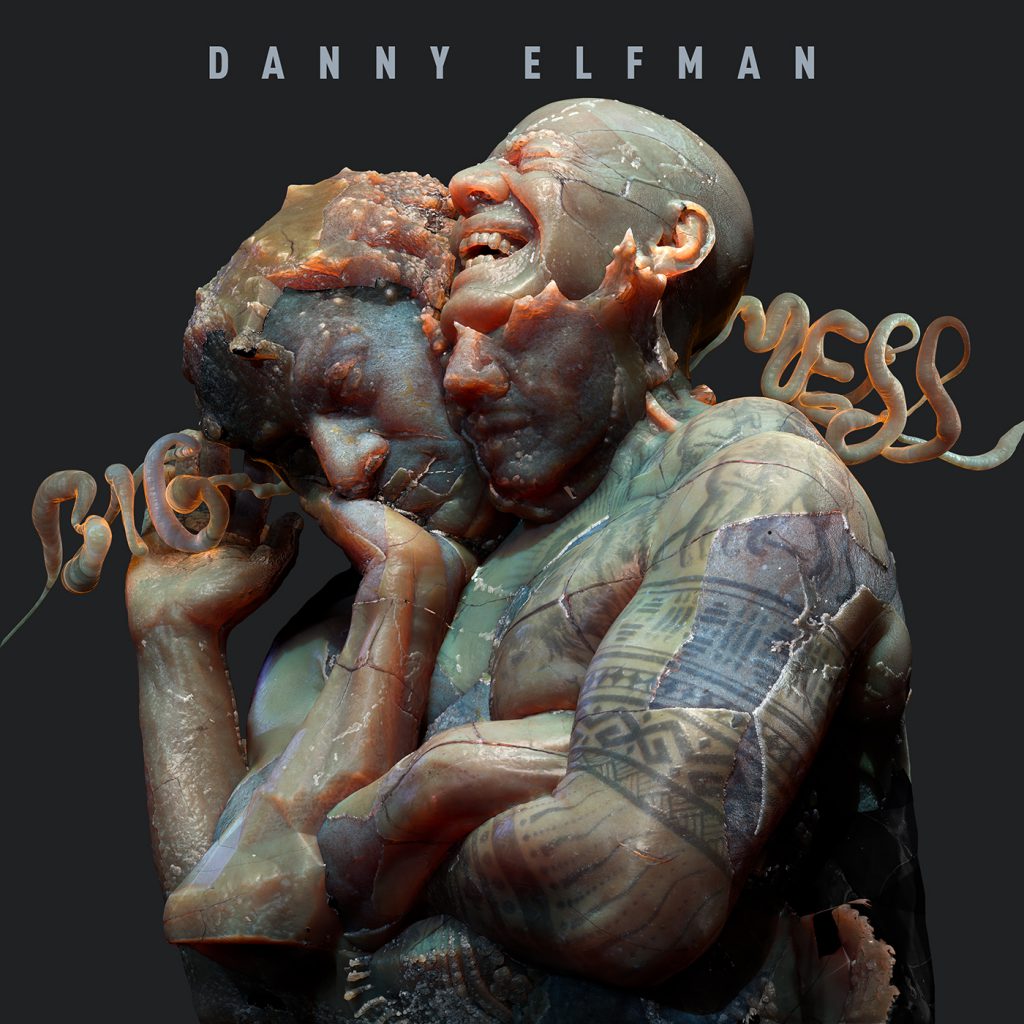 DANNY ELFMAN
BIG MESS
Available NOW!