STEVE SCHNEE:
ALWAYS
 is about to be released. How are you feeling about the release and the reaction to it so far?
CHUCK PATEL:
 We're excited for the record to come out and very proud of it. It took a lot of time and devotion. The initial reaction has been positive, and we appreciate that. We weren't quite sure what the reaction would be since people have come to know us as a "Rocksteady" band following the release of 
NOTHING MORE TO SAY
 but besides that LP, our sound was never defined by one subgenre of Reggae, and what is most exciting to us is that the songs on ALWAYS will allow us to better portray our overall sound and vibe.
STEVE SCHNEE: Condolences to all for the loss of your vocalist Dan Klein. This album is an emotionally powerful and heartwarming tribute to him and the band itself. How long after Dan's passing in 2016 were you able to go through and listen to the original tapes that make up the foundation of ALWAYS? 
CHUCK PATEL: Thank you… The creation of ALWAYS kind of came as a surprise. It took some of us about 2 years to even begin thinking of playing music again. It was a hard time. Personally, I contemplated never playing music again. We did try some things with other singers and different ideas, but nothing really came close to the chemistry and magic we reached as a band with Dan as our singer. We knew we had maybe two or three good demos and when we discovered that we had some isolated vocal tracks of Dan, that was the first positive spark we had in a long while. At that point the idea flourished to try and create full rhythm tracks under the vocals we had. All three of us (Chuck, Preet Patel, Rich Terrana) began doing that and also discussed it with our producer, Victor, and he was onboard with working on the songs. As we began making new demos for the vocal tracks, we unearthed more isolated takes of Dan's vocals. We saw more light from this and realized we could build a whole album's worth of material. It was a harrowing task, but as we worked and began hearing the results, we were inspired to see it through. 
STEVE SCHNEE: In most cases, when a modern group attempts to play Rocksteady, Ska, Bluebeat, Reggae, or other related styles, they seldom harness the true spirit of the music. However, the Frightnrs sound completely authentic, from production, arrangements, vocals… Did this all fall in place organically or did you work hard to achieve your sound? 
CHUCK PATEL: I think it's really about our chemistry. Also, having a good foundation of understanding our genres and really digging into why certain Rocksteady/Reggae songs sounded so good. When the band first got together, we would relentlessly play common Reggae rhythms and really learn how to play with one another as well. We did that for about 2 years before we ever played a live show at a venue. Eventually we met our producer, Victor Axelrod, who was instrumental in helping create the Frightnrs' authentic sound because in addition to being incredibly knowledgeable and studied in the Reggae genre – and having the great ear to get the sounds and performances right – it was also very natural to work (and hang) with him in a studio setting. We also had a great deal of trust in each other's taste which was valuable. 
STEVE SCHNEE: When the group first came together, was the plan always to write your own material? 
CHUCK PATEL: Yes, that was always the plan. I personally wanted to create a group that would change what the current idea of "Reggae/Ska" bands were in NY at the time and open up the youths' eyes to a little more… much like the NY band The Slackers did for me when I was younger – they introduced me to artists like Cornell Campbell and Alton Ellis, which was hugely impactful. 
STEVE SCHNEE: After a few independent releases, you signed with Daptone Records. How did that come about? 
CHUCK PATEL: I think it starts from when we began working with Victor as our producer. We initially worked with Jay Nugent (The Slackers, Crazy Baldhead) as our producer. He saw what we were doing at shows and convinced us we really needed to record and wanted to help facilitate that. He ended up bringing us to Victor's studio for us to record most of the songs. Victor was just there helping engineer and taking a backseat role but as we were recording, he said a few things that really spoke to the band and later we all spoke to each other and were like, "What's up with this Victor guy…. I think he gets it??" We eventually started working with him and we at one point had a group of songs we wanted to record – we decided with Vic that we'd just record them and see what happens. Those works eventually were released by Mad Decent, but we had one song from those sessions that we felt wasn't right for that EP. which was the Etta James cover, "I'd Rather Go Blind". We had some mutual connections with Daptone at that time – i.e., Tommy Brenneck – and we asked him to pitch the song to them to see if they'd want to release it. We obviously thought highly of them being a NY Soul label and a better fit or the tune. They did like it, and through Victor, tasked us to create a solid Rocksteady album for them. They've been wanting to tap Victor for some time on a Rocksteady project and were surprised they hadn't heard of us before and together we created NOTHING MORE TO SAY. 
STEVE SCHNEE: Your debut album, NOTHING MORE TO SAY, is an exceptional release that is filled with an obvious love of creating this music. The emotion can be felt within the grooves. The tracks from ALWAYS were recorded during the same period and have that same powerfully haunting atmosphere. What made you set these tracks aside in favor of the songs that made it onto NOTHING MORE TO SAY? 
CHUCK PATEL: At the time we were riding a sort of high, we had just released some music for the first time in a long time and simultaneously through two recognized labels, then subsequently Daptone tasked us with this rocksteady project. WE WENT RIGHT TO WORK. This yielded a sort of golden period for us in song writing. We all had something to bring to the table and devoted most of our time to meeting up as much as possible in our Queens studio and writing and recording demos. The chemistry was at an all-time high and we just rode it out and had a long song/ideas list. This is when we brought Victor in to help figure out what songs were working, etc., and we picked songs together that we felt would be best for NOTHING MORE TO SAY and he helped transform/mold them to fit the Rocksteady sound — most of these songs were written organically and for us that meant they lay more in the Reggae realm or even early Dancehall / touches of Soul. There remained some songs though that we collectively decided should be saved for the next thing – because it was already a vibe, and we didn't need to mess with it. That was also a goal we set – let's make this Rocksteady record and then make the record we really want to make with our natural vibes… Most of these tracks are the ones we set aside or older demos we dusted off and gave some love to. 
STEVE SCHNEE: Before his passing, didn't Dan encourage the rest of the band to continue? 
CHUCK PATEL: Yes, we certainly had a lot of deep conversations at that time and most importantly, we promised him we would continue making music. That's one of the reasons this record brings us so much light: we are fulfilling part of the promise. He really believed in what we were attempting to create and was very excited about our next chapter, as we all were. We felt like we had these secret demos with sounds maybe no one has heard yet from us and it was definitely a mission to get these songs out to the people. 
STEVE SCHNEE: What was the process in putting ALWAYS together from these previously unreleased recordings? 
CHUCK PATEL: Well, it was a long tough process, almost took about two years to fully conceptualize, record, mix, master, etc., to get to the finish line. As described above, we started with the isolated vocals we had from all the takes we took when we were making demos. We would then learn how to play with those and recreate the original rhythms we wrote at that time or create something new. We would also get a sense of tempo and feel for the tune. We then recorded live drums, bass or guitar, and piano/keys live – whatever combination of instruments worked for us three to perform. I would say the hardest work would fall on our producer Vic for all the technical editing and making the music sound organic. 
STEVE SCHNEE: What was your emotional reaction once you heard the completed album? This is an album that is as powerful as NOTHING MORE TO SAY…
CHUCK PATEL: Happy to hear you feel that way – Yes… it's a trip… We feel happy that we were able to bring more of Dan and the Frightnrs' music to life and give listeners a better sense of our sound and range. 
STEVE SCHNEE: Are there more songs with Dan that may see the light of day at some point? CHUCK PATEL: Not from us. I do know one of our good friends and amazing producers Brett Tubin has a tune in the chamber that will be out at some point. 
STEVE SCHNEE: What is next for the Frightnrs? 
CHUCK PATEL: Writing brings us light but what we miss most is being able to perform live together which we haven't been able to do in years. Our next goal is to put together a group that we can not only write and record with, but most important to us, perform together. WE have our eyes on a certain group of female vocalists to potentially work with…
 Special thanks to Chuck Patel 
Extra thanks to Steve Dixon and Dave Rayburn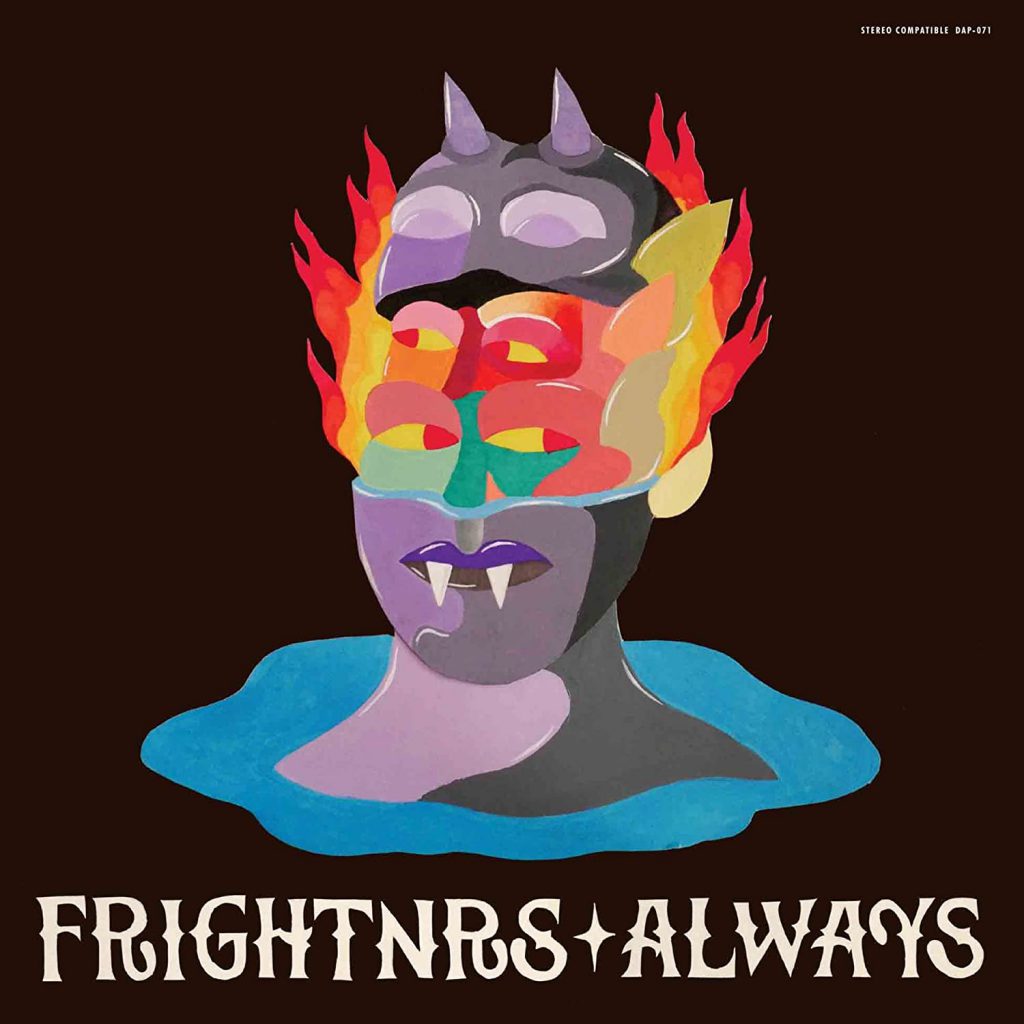 THE FRIGHTNRS
ALWAYS
Available NOW!