Although there is a dark side lurking beneath the surface, the music of Electronic duo Sofi Tukker is upbeat, fun and adventurous. While the duo's music is aimed for the feet, there's certainly a lot to wrap our head around. But before we get ahead of ourselves, let me introduce you to Sophie Hawley-Weld and Tucker Halpern AKA Sofi Tukker. Their name may evoke the spirit of legendary stage/screen/radio icon Sophie Tucker, but this duo's music is world's away from the original Sophie's bawdy burlesque. Sofi Tukker's two-year journey to their debut album, TREEHOUSE, has included a Grammy nomination, loads of great press and a coveted iPhone 7 commercial spot. Other artists toil away in obscurity for years, anxiously awaiting their time in the spotlight. However, Sofi Tukker's combination of Pop smarts and luck have put them on the fast track to the front of the line.
TREEHOUSE is a cauldron of bubbling synths, frothy melodies, and odd seasonings that includes contemporary Brazilian poetry, Japanese raps, and Andean string instruments. Oh, and let's not forget that the New York-based duo likes to occasionally sing in Portuguese! While TREEHOUSE might be English-based, the album is certainly from outer space. With songs like "Fuck They," "Batshit," "Benadryl," and "Johny," it is quite obvious that Sofi Tukker likes to take the road least travelled. Instead of playing it safe, the album walks the thin line between commercial Pop and bonkers Electronica. Thankfully, they seem to enjoy playing to both sides.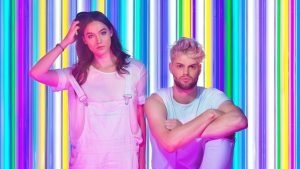 A lot of people will find something to love about TREEHOUSE. Yes, the album is a Dance record but you don't necessarily have to dance to enjoy it.  You'll find plenty of Electronica with short stabs of Trip Hop, World Music, and Pop. There's little room for sentimentality and as I stated in the opening paragraph, there seems to be an underlying darkness in that music that adds depth to each track. So, for those of you that think you're only going to hear dance beats and throw-away hooks, prepare yourself for something far more satisfying. This just may be bawdy burlesque after all!