Somebody once told me that I should stop writing about Punk Rock. He said that I don't 'understand' Punk and I should stick to writing about New Wave and other genres of music.
I beg to differ.
While I may not know enough about the politics that inspired the lyrics of various bands I listen to, I certainly understand my connection to the energy, the songwriting and the performances. In the late '70s and early '80s, I devoured as much British and American Punk as I could. While The Clash, The Jam, 999, Buzzcocks, The Stranglers, The Undertones, Sex Pistols and others had songs that were instantly melodic and catchy, there were certain bands that took a few extra spins to connect with. Angelic Upstarts were one of those bands.
Originally led by the songwriting duo of vocalist Mensi (Thomas Mensforth) and guitarist Mond (Ray Cowie), Angelic Upstarts are pioneers of Oi, a genre most commonly associated with Street Punk and the oft-misunderstood Skinhead movement. Like Sham 69, the band was embraced more by UK and European audiences but they did have a fair share of fans here in the U.S. However, since the band was distinctly British and rawer than the previously mentioned bands, airplay in the States was limited.  That was our loss because Angelic Upstarts released a series of fine albums that any serious Punk fan should have in their collection. Thanks to Captain Oi and Cherry Red Records, you can snap up their first four studio albums (with bonus tracks) plus a live release in the five CD box THE ALBUMS 1979-82.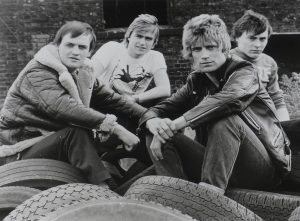 Disc One contains the band's 1979 debut album TEENAGE WARNING, which reached #29 in the UK National Charts. Produced by Sham 69's Jimmy Pursey, the album includes the hit singles 'I'm An Upstart' and 'Teenage Warning', both of which serve as perfect introductions to the band's Punk power. The album is chock full of shouty, call-and-response anthems that are angry, aggressive and catchy as hell. Bonus tracks include both sides of the band's debut single, "The Murder Of Liddle Towers."
Disc Two includes their sophomore album WE GOTTA GET OUT OF THIS PLACE. Pete Wilson's production ironed out a few of the raw edges and added more power to their Punk punch. 'Never 'Ad Nothin' is one of the band's finest moments (and was wisely released as a single). Other singles include 'Out Of Control' and the title track (yes, the Mann/Weil classic!). "Lonely Man Of Spandau" could be a lost Clash demo. While the title may scream 'RAMONES!', the song "Ronnie Is A Rocker" is more of a Chuck Berry rave up than a New York-inspired Punk blast. The opening melody of "Listen To The Steps" inches the band closer to the Pop world but they fight back with a snarly attitude.  The CD includes two bonus tracks
Disc Three is the band's 2,000,000 VOICES album (1981), which kept up the Punk pace yet featured more focused songwriting. Melodies rise to the surface on this album while the band adds more musical instruments into the mix including keyboards, trumpet, cello, etc. "Ghost Town" is a hook-filled Punk gem that morphs into a quasi-Reggae tune by the time it ends. However, "I Understand" dives headfirst into Reggaeville. The singles "Last Night Another Soldier," "England," and 'Kids On The Street' showcase the band's advanced songwriting and arranging skills. "Mensi's Marauders" even adds a fiddle to the Oi fun. While the album wasn't purposely aimed at the U.S. market, this is the one that should have helped the band reach a wider American audience.  Sadly, it did not.  While some hardcore Street/Oi fans may have been confused by the band's leap in songwriting abilities, the album has become one of the band's best-loved releases. And the five bonus tracks are icing on the cake.
Disc Four is their 1981 live release ANGELIC UPSTARTS LIVE, complete with four bonus tracks that were featured on a flexi disc given away with copies of the original album.
The band's fourth studio album (Disc Five in this box) – STILL FROM THE HEART (1982) – was a sudden and unexpected left turn.. Their previous studio album may have hinted at a Pop direction but nobody was prepared for this album – an album that stylistically lands somewhere between their previous album 2,000,000 VOICES and Human League's DARE! Well, OK, that might be a stretch but Mensi and Mond take the band into new aural territories, adding synths and other electronic noises and beats to the mix. Not as synth-heavy as Human League or their Punk compadre Pete Shelley's solo work, the album is still a radical departure from their earlier releases. And I'll be damned – it works in their favor. Still armed with Punk attitude and a little bit of Oi for good measure, STILL FROM THE HEART is a pretty damn fine Pop album. While the platter's producer Steve Levine would eventually make Culture Club sparkle when he produced their albums, the electronic element on STILL FROM THE HEART is minimalist and raw. It may add bells and whistles, yet the band still manages to keep their Punk souls intact. This is a bold move that didn't work for them commercially but still features plenty of great material. This is not a Synthpop album and doesn't try to be – it is smart, melodic and armed with plenty of attitude. With that being said, I'm sure it was quite a shock to their Oi/Punk fanbase!
Time for you to become an Upstart. This is where you should begin…
ANGELIC UPSTARTS
THE ALBUMS: 1979-82
Available NOW
Keep on truckin',
Stephen THE CHANCELLOR Schnee