There's just something about Soul music. It has a different effect on every listener. Where one person can hear joy and jubilation, another may sense a feeling of loss and sadness while listening to the very same recording. The listener's differing opinions revolve around just how deeply they immerse themselves in the music. On the surface, Soul and R&B is engaging and powerful but once you allow yourself to be surrounded by the music, you feel the emotional depth and intensity that went into creating the music. Mike Farris' SILVER & STONE album is one of those releases that shows both sides at the same time, offering up layers of powerful music that is both engaging and engrossing.
But before we get into the SILVER & STONE album, let's clarify something first: yes, this is THAT Mike Farris, the former frontman for The Screamin' Cheetah Wheelies! Active in the mid-to-late '90s, The Wheelies were classic American Rock – full of grit and heart. Over the course of three album, the band built up an audience hungry for classic back-to-basics rock. However, the band eventually split and Mike pursued a solo career. Reinventing himself spiritually and musically, Mike has chosen to reach inside himself and create music that reflects something much deeper than his old fans would ever expect. Through various solo releases, Farris has edged towards the perfect blend of Americana, Gospel and Soul. On SILVER & STONE, he has created an album that bleeds Soul and bleeds Gospel while dancing in the fire of Americana. It is a difficult task but one that sounds so easy in his hands.
From the acoustic strums of album opener "Tennessee Girl" to the soaring full-bodied beauty of "Golden Wings" and beyond, SILVER & STONE is an album that embraces every aspect of Soul and Pop and serves it up in little slices of pure passion. Farris strolls down Blues alley on a few tracks ("Snap Your Fingers," "Are You Lonely For Me Baby?" and "Movin' Me") while also touching the heart with cuts like "Hope She'll Be Happier" and "I'll Come Running Back To You." Farris's vocals are filled with emotion, recalling legends like Al Green and Bill Withers with just a drop of Van Morrison. Add a great cast of musical support – drummer Gene Chrisman, B3 master Reese Wynans (Double Trouble) and guitarists Doug Lancio (Patty Griffin, John Hiatt) and Joe Bonamassa – and you've got yourself an album that crosses genre boundariess and welcomes everyone to the party!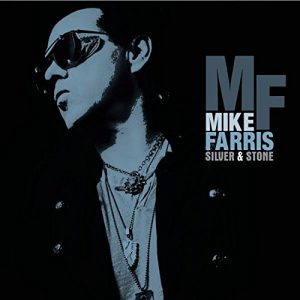 MIKE FARRIS
SILVER & STONE
9.7.18