So, what do you do if you create music that is completely in step with what should be popular but is apparently out of step with what is actually popular? Playing great music that reaches a specific audience is definitely admirable but it can be frustrating – for the band and their fans – if a talented act continually releases outstanding albums that don't immediately race to the top of the charts. Sadly, this type of situation is quite common. For example, for nearly 30 years, St. Louis' The Bottle Rockets have released a series of albums that embrace the heart of American music while reinterpreting it in fresh, new ways. BIT LOGIC is their 13th album and might be the album that finally connects them with a larger audience.
Mixing a midwestern drawl with a New York swagger, The Bottle Rockets are equal parts Rock, Americana, Roots, Blues, Country, and Folk. Falling somewhere between the witty storytelling of Randy Newman, the rollicking fun of NRBQ, and classic Country and Folk influences like Waylon Jennings, John Prine and many other legendary greats. BIT LOGIC – produced by Eric "Roscoe" Ambel (The Del Lords/Steve Earle & The Dukes) is an album that caters to no genre but isn't afraid to take sides when necessary. Lead singer and guitarist Brian Henneman has enough confidence to walk the line between Country bravado and Rock pessimism, seemingly offering a wink and a raise of the glass as the last note of each song fades into the ether. To be honest, you can't help but wave back in approval.
The album was recorded in St. Louis with Ambel. As timeless as it is fresh, BIT LOGIC is an album that acknowledges the band's inability to follow trends and ride whatever hipster wave is flowing through town at any given moment. And although they know exactly where they stand in the musical scheme of things, they also let the listener know that they don't give a fuck about it.  This isn't a bitter album at all – it is an album of acceptance. After nearly three decades, The Bottle Rockets have come to grips with the fact that they may never be chart toppers but they're pretty happy to be your favorite band.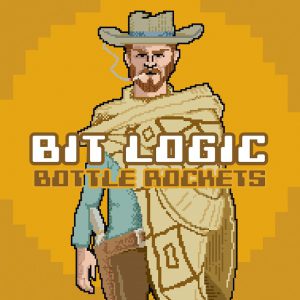 THE BOTTLE ROCKETS
BIT LOGIC
(Bloodshot Records)
10.12.18